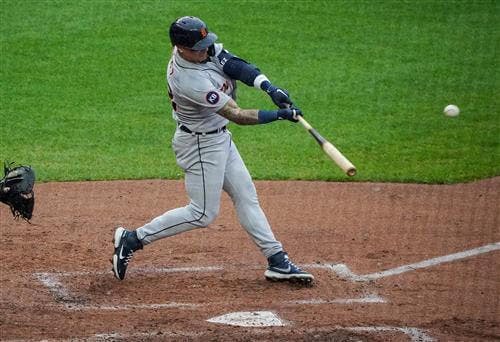 Sometimes things don't work out. Or they stop working. And that's certainly true in professional sports, where it is difficult to form a long-standing relationship between a player and a team. For whatever reason -- comfort or coaching or some quirk -- there are certain players who only prove capable of delivering their best after being sent to a new squad.
What follows is a list of guys for whom that could conceivably be the case. Be it a veteran in need of a bounce back or a youngster who is blocked, these trade candidates might benefit from a change of scenery this offseason.
Jarred Kelenic and Jesse Winker, OF, Mariners
In the wake of the Teoscar Hernández acquisition, the Mariners are still looking for other ways to update their outfield, and that could mean moving one or both of these players. Kelenic has bounced between the Majors and Minors and struggled to live up to the acclaim that accompanied his arrival in a blockbuster trade with the Mets, and Winker's attitude and conditioning have come into question in the short time since his arrival in a swap with Cincinnati last winter. Considering Winker was an All-Star for the Reds in 2021 (.949 OPS, 24 homers, 32 doubles) and Kelenic was not long ago considered one of the absolute best, can't-miss prospects in the sport, it's not a stretch to think they might succeed elsewhere.
Keston Hiura, 1B/2B, Brewers
In college at UC Irvine, in the Minors and in his first season in the big leagues (2019), all this dude did was hit. But he appears to have sold out for more power and suffered as a result, slashing .205/.293/.394 with a 38.5% strikeout rate over the last three seasons. His defensive issues have also hurt his standing with the Brewers, who tendered him a contract for 2023 but might not want to devote the DH spot to him. Perhaps another club could get his swing -- and career -- back on track. Hiura is only 26.
Jo Adell, OF, Angels
The 10th overall pick in the 2017 Draft, Adell was the Angels' top prospect and rated the No. 6 overall prospect by MLB Pipeline at the time he was first called up in 2020. But his big, physical skillset simply hasn't translated to big league success. Adell has slashed .215/.259/.356 in 161 games. The Halos' addition of Hunter Renfroe makes Adell expendable, but he's only 23 and might benefit from some new voices.
Gleyber Torres, 2B, Yankees
A supposed sure thing when acquired from the Cubs as a prospect in the 2016 Aroldis Chapman trade, Torres has had an erratic tenure in pinstripes. He was an All-Star in each of his first two seasons in 2018-19 before posting a combined OPS+ below league average while struggling defensively at shortstop in 2020-21. A full-time shift to second base was part of a better 2022 in which Torres slashed a more respectable .257/.310/.451. Torres is entering his age-26 season and had above-average hard-hit and barrel percentages last season. So unlike fellow Yankees trade candidates Josh Donaldson and Aaron Hicks, an acquiring team could speculate that his best days are still ahead of him.