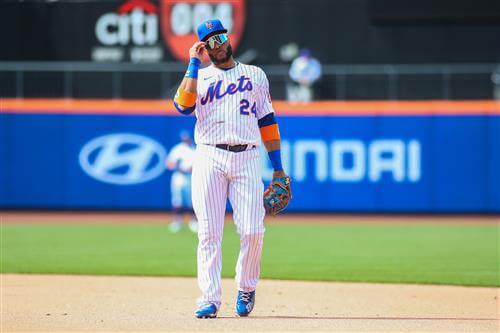 Robinson Canó's time with the New York Mets is over. The Mets designated Canó for assignment on Monday, the day teams must trim their rosters from 28 players to 26. New York opted to keep JD Davis, Luis Guillorme, and Dominic Smith rather than send one to Triple-A and hang onto Canó.
"Robbie absolutely still wants to play. Given the right situation, he can still make a meaningful contribution for a team," Canó's agent, Brodie Van Wagenen, told the New York Post's Joel Sherman. "Robbie is a true professional with a great deal of respect for the organization. He understands they had a tough decision to make. He wishes them well going forward."
Now 39, Canó went 8 for 41 (.195) with one home run in 12 games this season prior to being dropped from the roster. He served a 162-game performance-enhancing drug suspension last season and the Mets gave Canó some time to show whether there was still anything left in the tank this year. The answer appears to be no, so they moved on.
The Mets owe Canó $20.25 million in salary this season and next (the Seattle Mariners also owe him $3.75 million each year) and that money is guaranteed. Canó still gets paid even after the Mets release him. And he will be released. No team will claim Canó on waivers because a waiver claim would mean assuming his entire contract.
Once he is released, any team can sign Canó for the prorated portion of the $700,000 league minimum. It may seem unlikely Canó will hook on elsewhere, but the same was said about Albert Pujols after the Los Angeles Angels released him last season, and he landed with the very deep and very good Los Angeles Dodgers.
Which teams could have interest in Canó at the league minimum once he hits the open market in a few days? Here are 11 possibilities in alphabetical order.
1. Boston Red Sox
The Jackie Bradley Jr. plan in right field isn't working (Boston's right fielders are hitting .156/.224/.221 this year) and the Red Sox could put JD Martinez in the outfield full-time, clearing DH at-bats for Canó. That's a convoluted plan for potentially no return, though the Red Sox rank 24th in baseball with 3.52 runs scored per game. Something has to give, offensively.
2. Chicago White Sox
Already six different players have started a game at DH for the ChiSox and the revolving door only figures to continue in the wake of Eloy Jiménez's injury. Canó could fill that spot full-time, provide balance to a very right-handed lineup, and maybe provide a little spark to a White Sox team that is 2-11 in its last 13 games and ranks 25th in baseball with 3.29 runs scored per game.