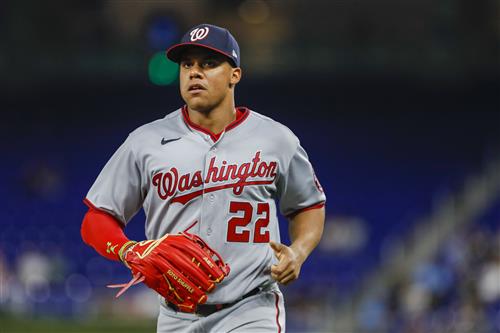 The summer trade market is weeks away from its final form, but the foundation has been poured already. Seven MLB teams are on track to win 100 or more games -- seven teams that will presumably be buyers in search of one last championship-level player. On a parallel plane, about six or seven teams are on track to lose 100 or more games, and those clubs are likely already preparing for a sell-off in their internal discussions.
In this first season in which the playoff field will be expanded from 10 to 12 teams, the bulk of the deals will occur between July 17 -- the first day of baseball's amateur draft -- and 4 p.m. ET on Aug. 2, this summer's trade deadline.
The variables that drive the market will shift and sway in the weeks ahead, but here are some of the major X factors that executives around the sport are already watching.
1. Will the Washington Nationals trade Juan Soto?
At 23 years old, Soto is already a superstar, and there aren't any comparable examples of hitters of his stature being dealt at such a young age. But rival execs say the Nationals might well be compelled -- and motivated -- to move Soto this summer.
They have already tried and failed to sign him to a whopper contract extension. He is represented by agent Scott Boras, who almost always takes his clients into free agency, which begins for Soto after the 2024 season. And the Nationals are going through significant transitions: the team is reportedly for sale, general manager Mike Rizzo is in the last year of his current contract and the franchise that won the 2019 World Series is terrible so far in 2022.
Soto is making $17.1 million this season, in his first year of arbitration eligibility, and he's likely to earn a record salary through arbitration next season.
"If they're not going to sign him [to a long-term deal], then they'll need to trade him," one evaluator said. "The question is: When?"
Rizzo has demonstrated a willingness to be an aggressive dealer in the past. In the summer before Bryce Harper reached free agency, Rizzo had a trade arranged with the Houston Astros that was eventually squelched by ownership. Given Soto's rising salary, the sooner he is traded, the more the Nationals will get in return -- and if the Lerner family is serious about selling the team, incoming ownership would likely prefer that any Soto trade occur before the transfer of power takes place.
But trading a player of Soto's potential is not for the faint of heart, and not just because the decision-maker's résumé might one day contain the ugly line of swapped a first-ballot Hall of Famer. It's also difficult to glean equal value in a trade for someone as great as Soto. The Lerner family might not want that attached to their legacy; the same could be true for Mike Rizzo.
Front-office types point to two teams that might be really motivated to move on Soto: The hyper aggressive San Diego Padres, who could dangle infielder C.J. Abrams and pitcher MacKenzie Gore; and the Blue Jays, who can dream on a left-handed star to complement the right-handed hitting Vladimir Guerrero Jr.
Given that Soto is still a couple of years from free agency, the Nationals could set a really high price and just wait for a bidder to step up with an offer of cornerstone prospects. Meanwhile, the Nats have plenty of other pieces to consider: Josh Bell, Nelson Cruz and others.
2. Will the Red Sox trade away their impending free agents, including Xander Bogaerts?
There are voices in the organization who really, really hope that the team's ownership is willing to admit the spring offer to Bogaerts of a one-year extension was a serious mistake and pay the homegrown shortstop. But Boston's history is that John Henry, Tom Werner, et al., will be ready to trade -- as they did with Andrew Miller, Jon Lester and, most tellingly, Mookie Betts.
There is time for the Red Sox to rebound from their slow start; the 2019 Nationals evolved from a May disaster into World Series champions. But as of Monday morning, Boston was on pace to lose 100 games, and if the Red Sox don't recover, they could be a rich source of veterans for contenders. Bogaerts, Kiké Hernandez, Nathan Eovaldi, Rich Hill and catchers Christian Vazquez and Kevin Plawecki are all free agents in the fall.