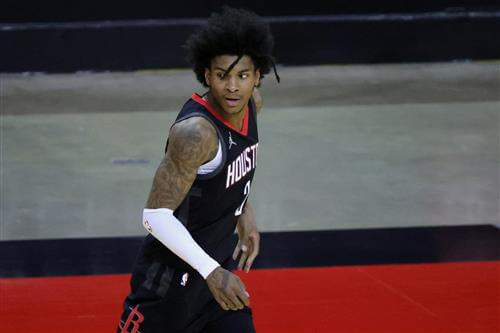 ESPN recently published a list featuring the 10 best players 25 or under based on potential, and while the ranking was kind of controversial, you couldn't argue with the 10 players they selected, as they've already proved to be potential franchise players.
Nonetheless, some players have been playing at a great level lately, yet they continue to fly under the radar. More than that, no one seems to be talking about them even though they continue to develop and make a huge impact on their teams.
It's obvious that Zion Williamson, Luka Doncic, or Jayson Tatum will be superstars. They're stars already. But what about those ranked a tier below? Today, we'll talk about 10 underrated young players that could end up becoming superstars.
10. RJ Hampton
People sleep on RJ Hampton but we're talking about a young man that was one of the highest-ranked prospects in the nation before he decided to take his talents overseas. An injury-riddled season in Australia made his Draft stock take a dip but the talent is clearly there.
Hampton didn't get many opportunities in Denver but he'll now have the green light with a rebuilding Orlando Magic team looking to build their backcourt for the future. He can play on and off the ball and is quite the gifted athlete. He's got long arms to be a versatile switcher but still needs to bulk up and be more efficient.
9. Nic Claxton
Even though they have James Harden, Kyrie Irving, Kevin Durant, LaMarcus Aldridge, and Blake Griffin; I still believe that the Brooklyn Net's X-Factor could be Nic Claxton. Why? Because he's actually their best rim protector and inside presence.
Claxton is by no means an offensive juggernaut like the aforementioned players but he's got the potential to be a nightly double-double with 2+ blocks per game. He's long, athletic, and has a never-stopping engine. If he manages to stay healthy, he'll be the answer they've been looking for to get some stops in the paint.
8. Talen Horton-Tucker
Talen Horton-Tucker was a deal-breaker in multiple deals with the Los Angeles Lakers this season and that should tell you just enough. Every team dealing with them wanted to get Horton-Tucker in return, yet Rob Pelinka knew he was way too valuable.
Horton-Tucker can get buckets from all three levels with ease. The game just comes naturally to him, and he's made great strides as a facilitator as well. Obviously, he's not going to have many shots with LeBron James, Anthony Davis, and Kyle Kuzma around; but it's just a matter of time before he blossoms into a deadly scorer.
7. Isaac Okoro
Isaac Okoro has been one of the most disappointing rookies thus far this season but to be fair, it hasn't been all his fault. He's struggled with multiple injuries and the tanking Cleveland Cavaliers have had no incentive to rush their prized rookie back into the game.
Okoro showed flashes of being a lockdown defender during his time in college and he made an impact in the defensive end in the NBA as well. His offense is still a work in progress but he's got a solid shooting form and could become an elite two-way player in a couple of years.
6. Cole Anthony
People aren't fond of tweener point guards that look to shoot more often than to pass but Cole Anthony is a bonafide bucket-getter. He's been training against NBA competition since he was a teenager and once the game starts to slow down for him, he'll be a menace.
Anthony could be more suited to be a shooting guard than a true point guard and he needs to work on his efficiency. But he's got a lot of confidence in his game and some impressive handles and moves, and he'll have plenty of chances to improve and grow through his mistakes at Orlando.