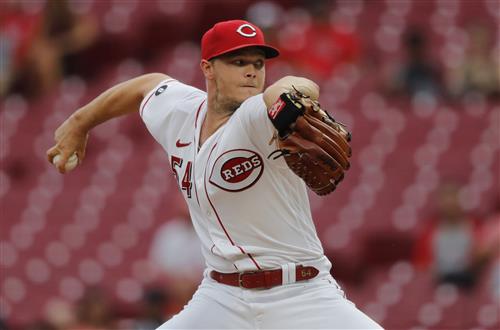 A fantastic first few months of baseball have unfortunately been marred a bit by the recent controversies surrounding MLB's new memo on foreign substances.
That has been a sticking point, so to speak, for a number of pitchers. Tampa Bay Rays right-hander Tyler Glasnow attributed his UCL injury in part to having to wean off sunscreen and rosin. The debates are likely to continue, especially with the collective bargaining agreement set to expire at the end of the season.
Major League Baseball's questionable handling of the situation is distracting from an exceptionally entertaining year full of standout individual performances and surprising contenders. The buying and selling landscape will only become more defined in the days leading up to the July 30 trade deadline.
Here are 10 players whose fates could be decided before then. Some of these players are on teams straddling the line between buying and selling. Others might be included with the notion they can improve their trade value. All would make for intriguing trade assets.
Let's jump in.
RHP Max Scherzer, Washington Nationals
The sub-.500 Washington Nationals might look like clear-cut sellers to some, but as we know from experience—ahem, 2018 and 2019—general manager Mike Rizzo and the Lerner family do not jump ship unless they absolutely have to.
That means there is no guarantee the Nats trade Max Scherzer, even if doing so would likely yield the best return Washington could hope for among the assets it would make sense to part with. Truthfully, the Nationals might not deal Scherzer no matter where they stand July 30.
Jayson Stark of The Athletic reported some executives feel Rizzo is more likely to trade outfielder Kyle Schwarber or relief pitcher Daniel Hudson (both possibly on expiring contracts, though Schwarber carries a mutual option) than trade Scherzer, an impending free agent. The Nats might ride it out with their longtime ace, who had a 2.21 ERA and 0.82 WHIP in 77.1 innings before landing on the injured list with a groin setback.
Then again, there is no incentive to keeping Scherzer ahead of the deadline if Washington struggles to gain ground in the National League East. In May, Bleacher Report's Joel Reuter ranked the Nationals' farm as the worst in baseball.
Washington might as well move him to get assets and then possibly try to re-sign him this winter. That's not impossible to envision, given Rizzo drafted Scherzer while with Arizona in 2006 and has a long history with Mad Max.
OF Nick Castellanos, Cincinnati Reds
Let's be clear: The Cincinnati Reds don't yet have incentive to trade Nick Castellanos, a legitimate NL MVP candidate.
The Reds have climbed to within two games of the Chicago Cubs and Milwaukee Brewers in the NL Central after sweeping the Brewers in Milwaukee, though they have since dropped to three games back of the Cubs after a loss to the San Diego Padres on Thursday. They are 11-4 in June and are 13-4 dating back to May 30.
Castellanos has been an enormous part of Cincinnati's success. He entered Thursday leading the majors in batting average (.350), hits (85) and doubles (23) while leading the NL in total bases (150) and boasting a 1.013 OPS. He ranks fourth in fWAR and third in weighted runs created plus (wRC+).
Still, there's a ways to go before July 30, and Cincy has been prone to volatility. This is the same team that started 6-1 before losing 11 of its next 14. The Reds also lost six of seven from May 17 to May 23, just before surging back into contention. The bullpen (last in ERA) is still a major question mark.
Should the Reds succumb to more long stretches of losing, it's possible Castellanos becomes available. The 29-year-old can opt out of his contract at the end of the season—he is due $16 million in 2022 and 2023, with a $20 mutual option in 2024—in search of another multiyear deal at a higher annual average value.
At the very least, the Reds figure to listen to offers for Castellanos if they slide in the standings. They could likely still get a good return package even if Castellanos does prove to be a rental.