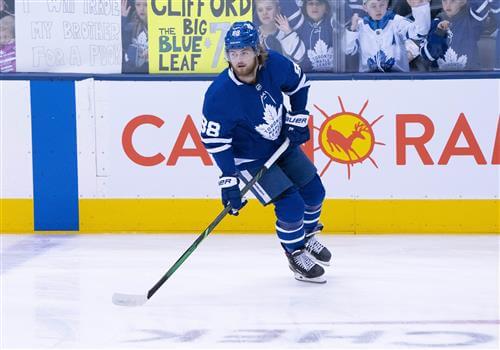 So, this is what a flat NHL salary cap looks like.
Taylor Hall taking a one-year flyer with the Buffalo Sabres, and scads of familiar names signing for less than seven figures.
Talented scorers in their prime (Mike Hoffman, Anthony Duclair) kicking around the open market more than two weeks after free agency opens.
Heartbreaking splits between Henrik Lundqvist and the New York Rangers, Braden Holtby and the Washington Capitals, and Alex Pietrangelo and the St. Louis Blues.
A major reason for the pinch is that literally a third of the league is mired in salary cap hell, with little to no room to make a significant addition without leaning into long-term injured reserve, burying an NHLer in the minors or trading off the roster.
Some of these clubs — the Tampa Bay Lightning and New York Islanders, in particular — need to prioritize locking up their own restricted players instead of looking elsewhere. (And certainly some franchises not on this list have internal caps set by ownership they must solve.)
Not only has a crowded cap hellscape left more UFAs on the board than normal and forced a surge in minimum-wage contracts, but in-season manoeuvres could also suffer with a lack of breathing room.
Without further ado, here's a look at 10 teams living in cap hell, and how and when they might climb out.
Anaheim Ducks
Cap space: $0
Roster size: 22/23
It's one thing to be pressed against the cap ceiling if you're a contender. It's another if you're the Anaheim Ducks. Yet GM Bob Murray has positioned his club as one that is retooling — not rebuilding — three years removed from its last playoff victory.
"If we get improvement in some of the young guys, which it's time for, and you get a little bit more consistency from the middle-age guys, I think we can be right there fighting for a playoff spot. There's no reason we can't be," Murray said this off-season.
Hence, the Kevin Shattenkirk and Derek Grant signings and rumours that Murray expressed interest in bringing back UFA Sami Vatanen.
The salary-dump deal of Erik Gudbranson to the Ottawa Senators and Ryan Kesler's LTIR placement have provided some cap relief, but Corey Perry's $6.625-million buyout hit through 2022-23 is no joke.
With veterans like Ryan Getzlaf ($8.25 million), Adam Henrique ($5.825 million) and David Backes ($4.5 million) all getting paid for what they've done instead of what they will do, it'll be tough to consider the Ducks a contender until some of this money comes off the books.
Scary thought: Murray is in the red without a backup goalie to John Gibson on the books.
Arizona Coyotes
Cap space: $0
Roster size: 22/23
Bill Armstrong tops the list of GMs we do not envy.
What a situation to walk into: No high draft picks. An expensive captain with an ironclad no-move clause. And no wiggle room under the cap.
Under previous GM John Chayka, the Coyotes swung hard and missed (see: Hall, Taylor). So, Armstrong's hand was forced to attempt trades, buy out Michael Grabner, let a decent depth forward like Vinnie Hinostroza walk for nothing, and try (unsuccessfully, so far) to trade Oliver Ekman-Larsson to one of two teams.
A measure of relief will arrive at the end of 2021, when hefty contracts for vets Alex Gologoski, Niklas Hjalmarsson, Jason Demers and Derek Stepan all come off the books. (Desert legend Marian Hossa will finally be paid off in full, too.)