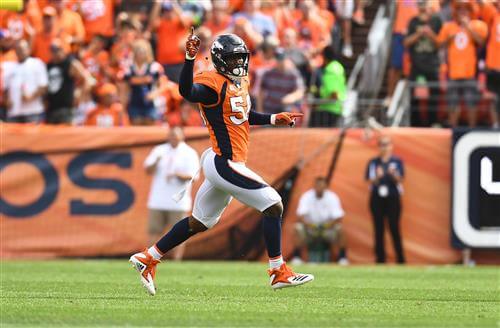 The NFL offseason is about to be crazy thanks to the revenue streams plummeting in the wake of the pandemic's warpath. The salary cap is projected to be around $175 million, which is going to be troublesome for the six teams already slated to be at least $20 million over that number before they re-sign any free agents.
Veterans will be moved, and the 14 teams with at least $20 million of cap space should be aggressive since the cap should recover quickly if society gets closer to normal life in the fall. Signing back loaded deals or acquiring high-priced veterans via trade can be a wise gamble as teams buy low from cash-strapped franchises.
We found 10 high-profile veterans who could get traded this offseason. Some are more likely than others, but we'll breakdown the possibilities and project landing spots for each name.
Matt Ryan
Possible Suitors: Colts, Patriots, 49ers, WFT, Broncos
The Falcons have long possessed one of the most productive passing games in the league thanks to Matt Ryan, but as the franchise sits with the fourth overall pick and $24 million over the cap, there's hope around the league the franchise may be ready to blow it up. They owe $125 million to the five most expensive players on their roster, and the new regime must get their cap issues under control while also injecting a ton of talent. Moving Ryan could net them some serious assets and relieve future cap hits.
Ryan's still an above-average quarterback as he turns 36 this year. He'd be a perfect match for rosters like Indianapolis, New England, San Francisco, and Washington. And each of those teams has a first-round pick they could offer to incentivize the Falcons to take the plunge.
The tough part of moving Ryan is the money. Trading him prior to June 1 would actually cost them $3.5 million in cap due to his contract structure, and the team acquiring him would take on a massive $41 million cap hit. Atlanta would be eating a ton of money for an extra first-round pick and drop in production from the position.
Maybe restarting around Justin Fields or Zach Wilson plus a pass-rusher or cornerback of choice with that newly acquired pick is enticing enough, but it seems unlikely. Moving Ryan next year seems more likely since they'd save about $15 million of his $41.6 million cap hit. It's also possible the next staff simply accepts Ryan's last three years as a necessity due to the extreme money latched onto his deal, and that he's probably good enough to win with.
Matthew Stafford
Possible Suitors: Colts, Patriots, 49ers, WFT, Broncos
The other above-average quarterback mentioned in the rumor mill is Stafford. The soon-to-be 33-year-old has endured eight losing seasons in Detroit, and three in a row. He signed a five-year, $135 million deal in 2017 and has two seasons remaining for a total of $59 million owed to him.
The Lions own the seventh pick in the draft and a slew of veteran contracts that can be moved to open needed cap space. The mixture of several losing seasons, Stafford's tradable contract and the state of the franchise not improving since his arrival have led to speculation we've seen the last of the gunslinger in Detroit. A new regime is a good time to flush the variables that haven't been part of the solution.