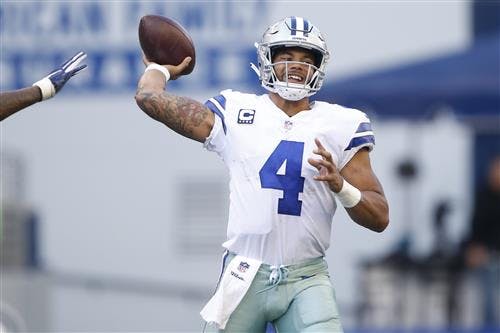 NFL teams can use the franchise tag to keep high-end players off the free-agent market or to simply avoid long-term financial commitments.
In some cases, front-office executives want to see more out of a player before they sign him to a lucrative multiyear deal. Sometimes, teams just need more time between the official start of a new league year and training camp to finalize a lengthy extension.
Whatever the case, players prefer stable financial security over a fully guaranteed one-year deal because production fluctuates between campaigns, injuries happen and aging hurts market value.
The franchise tag amounts to a leaguewide calculation for each position based on the salary cap—which ESPN's Adam Schefter projects at about $180 million to $181 million in 2021—or 120 percent of the player's previous-year salary, whichever is of greater value.
Using Schefter's number, Jason Fitzgerald of Over the Cap projected the franchise-tag value of each position.
Clubs can also use an exclusive version of the tag at a higher cost, so that player cannot negotiate with other teams. Front offices use the non-exclusive tender most of the time.
We'll profile 10 players who should expect the tag during the February 23 to March 9 window. Keep in mind teams will have until July 15 to work out a long-term deal with these players. In addition to Fitzgerald's projections, we included figures from Spotrac's Michael Ginnitti for those players who are expected to earn more than the basic tag figure.
EDGE Haason Reddick, Arizona Cardinals
Projected tag: $14.6 million
The Arizona Cardinals didn't know it last May, but they cost themselves a few million with their decision to decline Haason Reddick's fifth-year option, which would've been about $10 million.
As an off-ball linebacker, Reddick lost his starting job after Week 6 of the 2019 season. With that in mind, the Cardinals made a seemingly good move to limit his contract to four years after an inconsistent stretch with multiple position changes.
In 2020, Reddick took advantage of his opportunities as a full-time edge-rusher. Chandler Jones tore his biceps during a Week 5 contest with the New York Jets. For the remainder of the campaign, Reddick had a starting role and finished with 12.5 sacks.
At a premium position, coming off his best season, Reddick could make north of $15 million. Although he may not match his sack performance from last year with Jones healthy, the Cardinals should tag him.
At 30 years old, going into a contract term, Jones could see his Arizona tenure end after the 2021 season. If Reddick flashes his pass-rushing prowess again, he could take over the starting role for the long term.
LB Matt Milano, Buffalo Bills
Projected tag: $14.6 million
After going 13-3, winning a division title and earning a trip to the AFC Championship Game, the Buffalo Bills should try to keep their core together.
General manager Brandon Beane had that objective in mind when he spoke to the media in late January.
"We'll do our best to retain him and as many guys as we can," Beane said. "We just don't even know the numbers yet and what it's going to be. There's going to be some tough decisions unfortunately for us, whether it's letting guys go on this roster or having to watch guys leave."
Per NFL Network's Ian Rapoport, the Bills may offer quarterback Josh Allen an extension that would make him "one of the highest-paid" quarterbacks in the league.
As a result, a key defensive playmaker such as Matt Milano may hit the open market or wait to hear from the Bills about a new deal. At $322K over the salary cap, Buffalo could release defensive tackle Quinton Jefferson to save $6.5 million, tag Milano and work with his representatives until the July 15 deadline.
According to the Bills' official site's Jourdon LaBarber, who attended the team's end-of-season presser, "Beane did [not] rule out using the franchise tag on Milano."
In 2020, Milano battled hamstring and pectoral injuries and missed six games, but he's become a complete every-down linebacker through four seasons, logging 273 tackles, 30 for loss, six sacks, 21 pass breakups and five interceptions.
As Beane noted, he'll try to retain his guys. Milano should be a top priority. He and Tremaine Edmunds have formed a top linebacker tandem in the middle of the defense.
OT Taylor Moton, Carolina Panthers
Projected tag: $13.6 million
One can make a clear case that Taylor Moton has become the Carolina Panthers' top offensive lineman. He's started every game since 2018, lining up mostly at right tackle. The Western Michigan product allowed just three sacks and committed two penalties in 2020, per Pro Football Focus.
Using PFF, Alaina Getzenberg of the Charlotte Observer took a deeper dive into Moton's pass-blocking numbers.