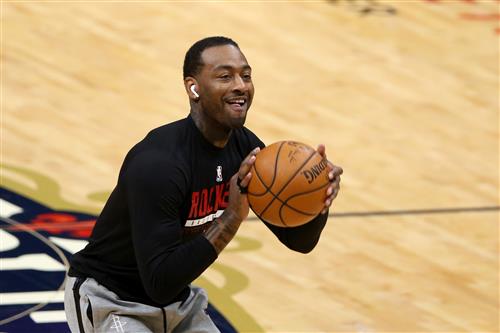 After a disappointing first-round exit, the Los Angeles Lakers have a huge offseason ahead of them. It's clear that the team cannot compete with just LeBron James and this roster. The loss of Anthony Davis made this team vulnerable for the future, which means that the Lakers will need to retool this roster fast.
Looking ahead, the Lakers have a large number of free agents that will need looking at. That includes the following:
- Talen Horton-Tucker (restricted)
- Kostas Antetokounmpo (restricted)
- Devontae Cacok (restricted)
- Montrezl Harrell (player option)
- Andre Drummond (free agent)
- Dennis Schroder (free agent)
- Alex Caruso (free agent)
- Jared Dudley (free agent)
- Wesley Matthews (free agent)
- Ben McLemore (free agent)
- Markieff Morris (free agent)
Realistically, the Lakers cannot sign all of these players. They do not have the cap space to land a third star and bring back all of their depth. With that said, the Lakers have been currently rumored to be engaged in a lot of potential trade targets. These 10 players are the most realistic players that could land in Los Angeles.
10. Jerami Grant
Trade Package: Kyle Kuzma, Montrezl Harrell, 2023 Second-Round Pick, 2027 First-Round Pick
Grant is coming off a career-high with the Detroit Pistons. Grant averaged 22.3 points, 4.6 rebounds, and 2.8 assists. Had the Pistons had a better record, Grant would have been talked about more often for the Most Improved Player of the Year Award.
The Pistons are not going to be competing with Grant in the fold. He has two years left on his deal and his value is at an all-time high. It would take Kuzma, Harrell, and a few drafts picks, but the Lakers would have a bona fide scorer that could start or come off the bench. Grant could easily start with LeBron playing the point guard position. If not, Grant would have his excellence displayed on a national stage and then he would be inserted in the conversation more often.
9. Buddy Hield
Trade Package: Kyle Kuzma, Montrezl Harrell
For similar reasons as Dinwiddie, this would take moving two players for the cost of one. Kuzma has the potential to build around. Two years ago, he averaged 18.7 points, but his numbers have dipped when talent built around the team. The Kings and Buddy Hield need to move on from each other. Hield is not in the long-term plans, while Kuzma could be.
For the Lakers, Hield would give the team a player like Lou Williams during his prime with the Clippers. Hield can average 20 points per game and owns a career three-point field goal percentage over 40%. If playing consistently, Hield can provide offense any given night.