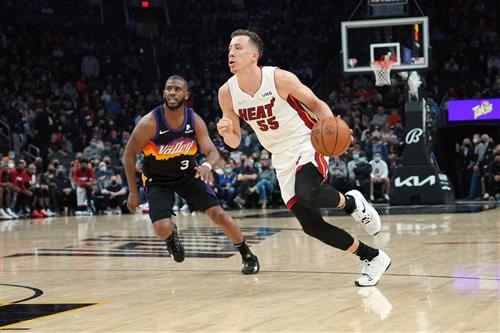 Despite having advanced to the conference finals, the Boston Celtics, Dallas Mavericks, Golden State Warriors and Miami Heat should all have concerns about the current state of their rosters.
Whether it be potentially missing a key player because of injury, finding a defensive stopper to contain the other team's superstar or merely fixing roster holes that have already been exposed during the first two rounds, all four squads should already be thinking about offseason trades.
Given that these teams may well face off again in future postseasons, these are the deals every front office wishes it could make now and should explore immediately when the season ends.
Boston Celtics
Primary Concern: Robert Williams III's knee issues
Trade Idea: Boston Celtics acquire C Mike Muscala and F Kenrich Williams from the Oklahoma City Thunder for F Aaron Nesmith, 2022 second-round pick and 2023 second-round pick (via Orlando Magic)
Williams missed the last four contests of Boston's second-round series versus the Milwaukee Bucks after suffering a bone bruise following a Game 3 collision with Giannis Antetokounmpo. While he was available to play in Game 7, he remained on the bench while the Celtics closed out the Bucks and advanced to the Eastern Conference Finals.
Even if he suits up for Game 1 against Miami, Williams will be far from 100 percent and previously missed nearly a month after undergoing meniscus surgery in late March.
As well as Al Horford, Grant Williams and Daniel Theis have held the fort down in his absence, Boston could use another versatile big who can offer some rim protection while also spacing the floor.
Muscala held opponents to a stingy 47.8 percent shooting at the rim this season, a mark even lower than that of Williams (50.7 percent). While he's not nearly the overall defender that Williams is, Muscala is one of the NBA's best three-point shooting big men, knocking down 42.9 percent of his outside looks for the Thunder this season.
With Williams continuing to have knee problems and Horford set to turn 36 in a few weeks, Muscala would be a terrific rotation big to mix in.
The Celtics should push for Kenrich Williams in the deal as well, as he'd help as a switchable defender who can line up against Jimmy Butler, Tyler Herro and others.
OKC would have more minutes available for Nesmith, the 22-year-old No. 14 overall pick in 2020. Boston also needs to throw in some second-round picks for good measure, starting with its own in this summer's draft.
Dallas Mavericks
Primary Concern: Offense from non-guards
Trade Idea: Dallas Mavericks acquire C Christian Wood from the Houston Rockets for C Dwight Powell, SG Josh Green and 2022 first-round pick
While Luka Doncic has continued to obliterate postseason opponents (31.5 points, 10.1 rebounds, 6.6 assists, 1.9 steals), the Mavs have become extremely guard-heavy (along with Jalen Brunson and Spencer Dinwiddie) and could use a post presence who can create his own offense.
Maxi Kleber is the highest-scoring center option the Mavericks have (10.1 points per game), although 86.7 percent of his twos and 100 percent of his threes have come off an assist this postseason.
While Dallas clearly made the right move by trading Kristaps Porzingis, adding a different big man who can space the floor, pick-and-pop and create for himself in the post would be a huge addition to this Mavs team, especially against a defense as good as the one these Golden State Warriors employ.