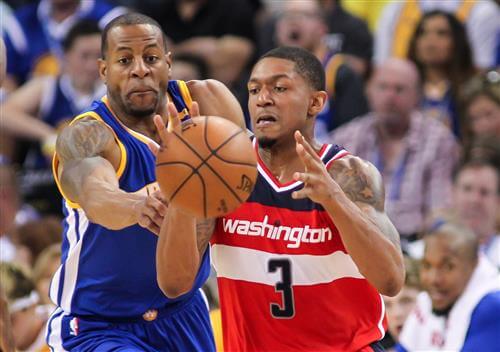 Maybe this is the offseason optimism talking, but the NBA's championship race looks as wide-open as it has in years.
The Association no longer runs through Oakland, California. A frenetic offseason reshaped the basketball landscape several times over, resulting in uncharacteristic congestion at the top of the food chain.
We're here to help alleviate the traffic by suggesting one swap for every could-be contender that might help it separate from the pack.
While some of the players involved can't be traded until mid-December or later, all of these moves are worth exploring at some point during the upcoming campaign.
Boston Celtics
Boston Celtics Receive: Bradley Beal, Ian Mahinmi
Washington Wizards Receive: Gordon Hayward, Jaylen Brown, Carsen Edwards, 2020 first-round pick (via Milwaukee)
The Wizards offered Bradley Beal a three-year, $111 million max extension in late July, per The Athletic's David Aldridge. Nothing has moved on that front since, and it quite possibly never will. The two-time All-Star guard can make more money by waiting—an All-NBA selection would make him supermax-eligible next summer—and he may want a better feel for this franchise's future before committing to everything.
That's reasonable for him but perhaps a source of anxiety for the Wizards. If they sense a risk of losing him for nothing, they could pounce on a deal that returns value. This package in particular would net them three long-term assets plus an All-Star in Gordon Hayward, who could be trade bait at a later date if he rediscovers his form.
As for the Shamrocks, they would join the discussion of the NBA's best backcourts by pairing Beal with Kemba Walker. Each was among the nine players to average 25 points and five assists per game last season, and none of the other seven share a roster. Add Jayson Tatum to the mix, and Boston boasts an ignitable scoring trio, especially if the 21-year-old makes his anticipated leap.
While Ian Mahinmi is mainly a money-matcher, it's possible the veteran big man becomes more than a throw-in. Boston is young and unproven behind Enes Kanter at the center spot, and while Mahinmi lacks excitement, he has averaged nearly a double-double per 36 minutes over his 11-year career.
Denver Nuggets
Denver Nuggets Receive: Bradley Beal
Washington Wizards Receive: Gary Harris, Michael Porter Jr., Juancho Hernangomez, 2022 first-round pick (top-10 protected)
While nearly every other Western Conference power swung for the fences this summer, the Nuggets put their chips in the continuity basket. Considering they just won 54 games while being paced in points by a 24-year-old (Nikola Jokic) and 22-year-old (Jamal Murray), it's understandable why they'd bank on internal development to get them over the hump.
But this is a league controlled by squads with multiple stars, and Denver doesn't measure up. Deal for Beal, though, and the Nuggets could have their key to championship contention.
"He could form a one-two punch with Joker fully capable of trading blows in the playoffs with the Warriors' Stephen Curry and Draymond Green, the Clippers' Kawhi Leonard and Paul George or the Lakers' LeBron James and Anthony Davis," Mark Kiszla of the Denver Post wrote. "Add Beal ... and Denver pries open its championship window for the next five years."
Beal can control contests as a scorer, distributor or spot-up shooter, which could make him the perfect fit in the Mile High City. Jokic's passing could elevate Beal's efficiency, Beal's scoring punch could cover for Jokic's occasional lack of aggressiveness, and Beal's off-the-ball comfort could allow Murray to shine on his human-fireball nights.
Gary Harris is a strong three-and-D player, but since he doesn't have the upside of a Jaylen Brown, Denver would have to sweeten the pot with the wildly intriguing Michael Porter Jr. Last summer's 14th pick hasn't been healthy in almost two years, but when he was, his size-plus-skill combo made him the top prospect in what already appears like it was a loaded draft class.
Golden State Warriors
Golden State Warriors Receive: Aaron Gordon, D.J. Augustin
Orlando Magic Receive: D'Angelo Russell
The Warriors seem open to a future with D'Angelo Russell. As general manager Bob Myers put it, "We didn't sign him with the intention of just trading him," per Mark Medina of the Bay Area News Group.
Russell will get a trial run with his new team, as he can't be traded before Dec. 15. That works just as well for the Warriors, who might be without Klay Thompson until February or March. That could be enough time for Golden State to realize Russell can't scratch its biggest itch. He's more ball-dominant and less efficient than the ideal player in Steve Kerr's system or the ideal running mate for Stephen Curry.
Russell, who secured his first All-Star spot while averaging 21.1 points and 7.0 assists per game last season, fits best on a team more in need of shot-creation. The Magic, who were dead-last in backcourt offensive rating in 2018-19, could be that club.
In Orlando, Russell could provide some offensive pep to a team that already sports a top-10 defense. He could find his own shots, work pick-and-choose wonders with Nikola Vucevic or break down defenders to free the Magic's shooters or above-the-rim finishers.
Golden State, meanwhile, would get a near-perfect roster fit in Aaron Gordon. A frontcourt featuring him and Draymond Green could be as versatile as they come. Gordon is expanding his game as a secondary playmaker and capable shooter. Plus, he would even help its future finances, as his deal decreases in value over the next three seasons.
D.J. Augustin would become the potent backup Curry hasn't had in years. Golden State's second unit ranked 28th in scoring last season. Augustin could address that problem. He averaged 11.7 points per game with a pristine 47.0/42.1/86.6 slash line in 2018-19.
Houston Rockets
Houston Rockets Receive: Kevin Love
Cleveland Cavaliers Receive: Clint Capela and Eric Gordon
Mike D'Antoni digs the long ball. Each of his three seasons as skipper of the Houston Rockets has resulted in an NBA record for three-pointers.
Daryl Morey digs stars. During his tenure as Rockets general manager, he has acquired Kyle Lowry, Kevin Martin, James Harden, Dwight Howard, Chris Paul and Russell Westbrook.
Kevin Love would be a dream get for Houston's top decision-makers.
Few bigs are in his class as a shooter—he has the third-most threesamong all forwards and centers since 2013-14—which makes him a premium spacer. The offense would grow even harder to handle if he could run pick-and-pops with Harden and Westbrook, hit them on the run with pinpoint outlet passes and simply drag defenders away from their isolation attacks.
The five-time All-Star might not be the highest-profile player Morey has acquired, but he could be among the most important. Love's arrival would give Houston a legitimate Big Three, which arguably no team has right now after all the offseason activity. He's been a championship-winning third wheel before, and maybe he could play the same role in the Space City.
This would only work if the Cavs are interested in dealing Love, and they keep swearing they aren't. But it's easy to connect the dots. They're rebuilding, while he's expensive and approaching his 31st birthday. Cleveland may be making a leverage play to maximize his trade value—which admittedly isn't great—and this deal might be as good as it can get.
The 25-year-old Clint Capela has building-block potential. His vertical spacing and rim protection would make life easier on young Cavs guards Darius Garland and Collin Sexton. Eric Gordon, meanwhile, would be relatively easy to flip to a contender as a proven performer with playoff experience and an expiring contract.
Los Angeles Clippers
Los Angeles Clippers Receive: Andre Iguodala
Memphis Grizzlies Receive: Maurice Harkless, Jerome Robinson, 2021 and 2023 second-round picks (via Detroit)
The Clippers don't want to part with Maurice Harkless in a trade for Andre Iguodala, per Stadium's Shams Charania.