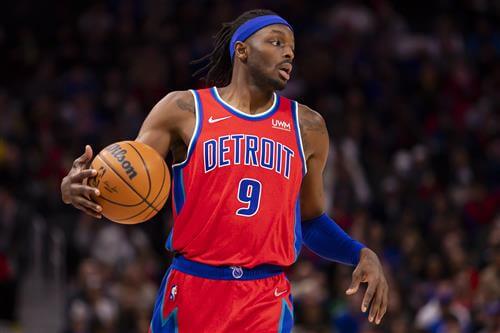 The 2022 NBA draft lottery is Tuesday, and it could change everything for whichever team lands the first overall pick.
In most cases, the squad that secures that top selection should keep it. Cost-controlled players with star potential are hard to come by, and there's a good chance that the lottery winner is in desperate need of a cornerstone. Chet Holmgren, Jabari Smith Jr., Paolo Banchero and Jaden Ivey all fit that description.
Then again, a team that suddenly finds itself in possession of such a coveted asset might want to explore the return packages it could generate in a trade. That's especially true of clubs with win-now timelines, which helps explain why we've seen the No. 1 pick traded twice in the last eight drafts.
Where we can't concoct a reason for the lottery winner to trade out of the No. 1 spot, we'll cook up a related deal—one that clears minutes for a rookie or balances out the roster. Most of these will be improbable and ambitious. Some of them will hurt your brain.
Hopefully, all of them crank up the anticipation for one of the most exciting days on the NBA calendar.
Houston Rockets
2021-22 Record: 20-62
Odds of No. 1: 14 percent
Odds of top four: 52.1 percent
The Houston Rockets seem committed to Jalen Green and Kevin Porter Jr. as their backcourt of the future, which diminishes their likelihood of trading back from No. 1 to snag Purdue guard Jaden Ivey. In this hypothetical, Houston will keep the top pick and use it on one of three frontcourt players: Chet Holmgren, Jabari Smith or Paolo Banchero.
2021 first-rounder Alperen Sengun is a key part of the Rockets' young core, but 26-year-old Christian Wood probably isn't. Moving his expiring $14.3 million salary to clear minutes for the top pick should be Houston's main goal. Ideally, the Rockets could find a team with a need for frontcourt scoring and a willingness to take on a little extra money. If the Rockets can bring back a heavily protected first-rounder, or even a couple of seconds, they could potentially use those to sweeten a salary-dump package involving John Wall.
We'll worry about Wall another time. For now, we'll focus on Houston flipping Wood for Mason Plumlee (only $4.2 million of his $9 million 2022-23 salary is guaranteed), Kai Jones and a pick. The Charlotte Hornets get a one-year trial with the type of offensively talented center they've long lacked, and Houston clears room for the youth movement.
Houston Rockets Receive: Mason Plumlee, Kai Jones, 2022 second-round pick
Charlotte Hornets Receive: Christian Wood
Orlando Magic
2021-22 Record: 22-60
Odds of No. 1: 14 percent
Odds of top four: 52.1 percent
Between Wendell Carter Jr., Franz Wagner, a hypothetically healthy Jonathan Isaac, restricted free agent Mo Bamba and annual "the breakout is coming" forward Chuma Okeke, the Orlando Magic have no shortage of quality options up front.
Selecting for positional need is almost always a mistake, but let's assume for the sake of argument that Orlando's pre-draft research indicates Ivey actually belongs in the top tier alongside Holmgren, Smith and Banchero. In that scenario, trading down a few spots would be an intriguing option.
Ivey's top-tier athleticism and developing three-point shot (25.8 percent as a freshman; 35.8 percent as a sophomore) could make him the type of dynamic lead guard Orlando lacks. Jalen Suggs could still become such a player, but the ball just never went in for him as a rookie. He's young, but there aren't many current stars who began their careers by shooting 36.1 percent from the field and 21.4 percent from deep. All Cole Anthony has proved in two years is that he can get counting stats on a bad team.
Ivey and another asset could add real juice to the Magic's rebuild. If the Detroit Pistons slip to No. 3 and decide they can't live without Holmgren, there's a deal to be made here along the lines of the 2017 swap that saw the Philadelphia 76ers trade the No. 3 pick and a future first to the Boston Celtics for the top selection in that year's draft.
Orlando Magic Receive: 2022 No. 3 pick, 2025 lottery-protected first-round pick
Detroit Pistons Receive: 2022 No. 1 pick
Detroit Pistons
2021-22 Record: 23-59
Odds of No. 1: 14 percent
Odds of top four: 52.1 percent
There's a case to be made that the Detroit Pistons should consider trading down to take Jaden Ivey if they land the No. 1 pick. Cade Cunningham could use a better backcourt running mate than Killian Hayes, who's averaged 6.8 points and shot 37.4 percent from the field in his two NBA seasons.
Cunningham, though, could easily develop into a primary facilitator with wing size, which would expand the spectrum of player types the Pistons could employ beside him at the guard spots. If last year's top pick truly becomes a lead playmaker, Detroit could go with three-and-D role players at both backcourt positions.
That makes this a best-player-available situation, and the consensus seems to be that Chet Holmgren is that guy. Assuming the Pistons keep the No. 1 pick and select the ultra-lanky Gonzaga product, they should shift their focus to securing more draft capital by moving Jerami Grant. The 28-year-old forward is a fine player, but in their current state, the Pistons should have no interest in the four-year, $112 million extension Grant reportedly desires.
The Portland Trail Blazers are trying to rebuild quickly around Damian Lillard, and Grant would be an ideal defensive upgrade in the frontcourt. Only $3.9 million of Eric Bledsoe's 2022-23 $19.4 million salary is guaranteed, which makes him a clean salary match for Grant's $20.9 million with few strings attached. The real prize for Detroit is the draft equity.
Detroit Pistons Receive: Eric Bledsoe, 2025 top-five protected first-round pick, 2022 second-round pick (via Brooklyn Nets)
Portland Trail Blazers Receive: Jerami Grant
Oklahoma City Thunder
2021-22 Record: 24-58
Odds of No. 1: 12.5 percent*
Odds of top four: 48.1 percent
If any team were in a position to trade up, it'd be the Oklahoma City Thunder, who have three first-rounders in 2022, plus the No. 34 selection. Here, though, we have to figure out what this pick-hoarding operation would do if it landed at No. 1. Tempting as it is to suggest the Thunder trade out of the top spot to continue their trend of adding as many future first-round selections as possible, it seems likelier their war chest is full enough.
Don't worry, OKC can still wheel and deal after taking Chet Holmgren at No. 1.
The Thunder also have the Los Angeles Clippers' first-rounder (12th-best lottery odds) and the No. 30 selection from the Phoenix Suns. Throw those together with Luguentz Dort, and perhaps the win-now Blazers would part with their own 2022 lottery selection, which is most likely to land at No. 6 overall.
Dort is on a bargain deal and brings valuable defense, but it'd be hard for the Thunder to turn down the opportunity to grab Holmgren and either Duke wing AJ Griffin or Iowa forward Keegan Murray. Neither would be on the board at No. 12, but one or the other should be there at No. 6.
The Blazers could desperately use a stopper if they intend to trot out Damian Lillard and restricted free agent Anfernee Simons together in the backcourt, and OKC should be looking to move Dort now before he hits unrestricted free agency in 2023 and commands a hefty raise.
Oklahoma City Thunder Receive: No. 6 pick
Portland Trail Blazers Receive: No. 12 pick, No. 30 pick, Luguentz Dort
*The Thunder also have the L.A. Clippers' first-round pick, which has a 1.5 percent chance of landing at No.1.