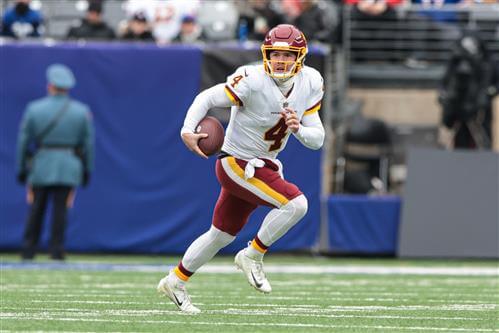 The NFL has entered a trading frenzy over the last two offseasons. We've never seen so many stars swapping teams as we have recently. The booming salary cap and player empowerment era have forever changed the way the NFL operates.
The constant wave of trades has made the NFL a year-round news producer. With training camp quickly approaching this summer, more deals will happen. It's just a matter of time until we see the next deal struck.
We've scoured each roster and salary cap sheet to find key roster needs that could realistically be addressed via trade this offseason. Every team has a different amount of assets they can utilize, and future cap space and quality of backups play a part in roster building. It's not easy to find a deal that makes sense for every team.
Nevertheless, we found one trade that each franchise should offer before training camp arrives. Let's dive in as we explore the market for the best possible outcome for all 32 teams.
Arizona Cardinals: Trade for Robert Quinn
Cardinals get: Edge Robert Quinn
Bears get: 2023 third-round pick, WR Andy Isabella
This time last year, it had seemed as though Chicago Bears edge-rusher Robert Quinn had the worst contract in the NFL. He had turned 31 during the offseason and was coming off a season with two sacks. With an $11.3 million cap hit in 2021 and a $17.1 million cap hit in 2022, it was feasible that Chicago would be stuck with the albatross deal until next season.
Much has changed in one calendar year. Quinn was a rare bright spot on the Bears as he racked up 18.5 sacks and four forced fumbles in 16 games. He played as well as he ever has, which is impressive since he has 101 career sacks.
Now, Quinn is a valued commodity despite his $12.8 million base salary. He'd be an incredible addition at this point of the offseason since the free-agent market is filled with pass-rushers clearly out of their prime. Quinn did not attend the team's mandatory minicamp this week, so it's clear a rift is present.
The best landing spot for the veteran is in Arizona. The Cardinals did not replace Chandler Jones with a high-impact talent.
Their current rotation features veterans Markus Golden and Devon Kennard, plus rookies Cameron Thomas and Myjai Sanders. Golden has hit double-digit sacks three times since 2016 but also finished the other three years with seven sacks combined. Consistency and star power are an issue.
J.J. Watt and Budda Baker need more help for this defense to become playoff-worthy. Adding Quinn would achieve that.
Atlanta Falcons: Trade for Jalen Reagor
Falcons get: WR Jalen Reagor
Eagles get: 2023 sixth-round pick
Wide receiver Jalen Reagor wasn't considered a massive reach at 21st in the 2020 NFL draft class, but it's clear he had no business being in the first-round mix with hindsight.
He's failed at major aspects of the receiver position since entering the league from TCU. His route-running isn't sharp, he struggles to finish through contact, and quarterback Jalen Hurts has been unable to find Reagor deep when he does shake free of coverage.
With only 695 yards and three touchdowns through 28 games and 24 starts, the Eagles have all but moved on already. Their trade and extension of A.J. Brown just one year after drafting DeVonta Smith have pushed Reagor down the depth chart where special teamers reside.
Barring a stunning leap of development, the Eagles would be better off saving the $1.8 million of his $3.6 million cap hit in 2022 than giving him another chance.
That said, maybe a new staff and breath of fresh air could rekindle his career. Atlanta has one of the most barren receiving corps in the league, and Reagor could easily break into a rotation that is unimpressive outside of 2022 first-rounder Drake London. The unit needs speed, and Reagor has plenty of it.