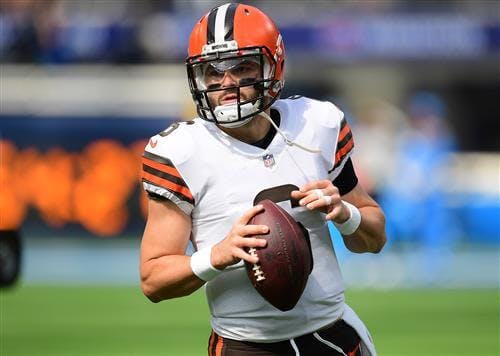 Somewhere in the multiverse the NFL's biggest names are playing for different teams.
Each general manager is tasked with being his franchise's version of Dr. Strange to view all of the possible outcomes. He must find the one path toward winning a Super Bowl.
In order to do so, all possibilities must be considered, even if they are slim.
Many fail along the way. For example, Bill O'Brien's decision to trade wide receiver DeAndre Hopkins two years ago basically changed the direction of the Houston Texans, whereas the Los Angeles Rams made the right investment in quarterback Matthew Stafford, who helped pushed the franchise toward the promised land last season.
Almost everyone should be available for the right price.
Based on the construction of their rosters, teams may view certain players as more beneficial to trade or as simply screaming to be moved. In either instance, any trade offer should be under consideration.
Some on this list may be viewed as a stretch, but the possibility must be weighed in an attempt to capture the NFL's version of the Infinity Gauntlet.
Arizona Cardinals: WR Andy Isabella
The possibility of the Arizona Cardinals trading wide receiver Andy Isabella should come as no surprise.
Last October, NFL Network's Ian Rapoport reported Isabella was a trade target as the regular-season deadline neared. Mike Garafolo tweeted in April that Isabella had been offered to a few teams leading up to the draft.
Yet the 2019 second-round pick remains a member of the Cardinals as he enters the last year of his rookie contract.
Last season, Isabella played in eight games and caught only one pass. He's never found a role in head coach Kliff Kingsbury's offense, and his spot on the roster is tenuous at best with Marquise Brown, A.J. Green, Rondale Moore, Antoine Wesley and DeAndre Hopkins (once he returns from a six-game suspension) ahead of him on the depth chart.
Despite Isabella's lack of production with only 31 receptions in three seasons, some team could take a low-risk flier on him because of his draft pedigree and his 4.31 40-yard-dash speed. For the Cardinals, something in return is better than nothing.
Atlanta Falcons: LB Deion Jones
The Atlanta Falcons are in transition, and their second-leading tackler may no longer have a place.
Deion Jones posted 130 or more tackles for the second time in his career in 2021. The 27-year-old veteran has averaged 109 tackles per season throughout his six years with the franchise.
However, his potential movement is based on two factors.
First, the Falcons entered this offseason in a significant financial bind. They dug themselves out of the hole even after taking on the largest dead-cap hit in NFL history ($40.5 million) when general manager Terry Fontenot traded quarterback Matt Ryan to the Indianapolis Colts. Still, a move away from Jones can create more long-term flexibility.

A trade at this point in the year would save the Falcons $14.7 million if a suitor is willing to take on the entirety of Jones' contract. Atlanta could agree to pay a portion and still be better off from a financial perspective.
Furthermore, the team signed free-agent linebacker Rashaan Evans and drafted Troy Andersen in this year's second round. Sooner or later, they're going to man Atlanta's second line of defense.
Baltimore Ravens: S Chuck Clark
To be clear, the Baltimore Ravens don't plan on moving safety Chuck Clark.
"The idea is to have as many good players as you can have and have them in the right spots and the right roles," Harbaugh told reporters in May. "I love the fact that we have very versatile players in the backend and at safety. So, to me, Chuck is a big part of this team, and I'm planning on Chuck being here."
But the team did draft Kyle Hamilton when he unexpectedly fell to this year's 14th overall pick. Hamilton is a defensive chesspiece who's capable of playing all over the field. The Ravens' defensive staff will find ways to get him snaps. He may receive multiple big nickel looks with Clark and Marcus Williams also on the field.
Eventually, Hamilton will work his way into an expansive role, and Williams is set at free safety after he signed a five-year, $70 million free-agent deal this offseason.
Clark is a good player, and the Ravens can find ways to use him. But another team in search of a starting-caliber safety can see the writing on the wall and could make a play for his services.
Buffalo Bills: OL Cody Ford
A promising start to his career fell apart relatively quickly after Cody Ford never developed as a starter along the Buffalo Bills offensive line.
As a rookie, he started 15 contests between right tackle and guard. A torn meniscus limited his action the following year. In 2021, he was essentially benched in favor of rookie right tackle Spencer Brown. Granted, Ford played guard at the time, but veteran right tackle Daryl Williams moved inside to accommodate Brown's inclusion.
Now Ford could be the odd man out.
Dion Dawkins, Rodger Saffold, Mitch Morse, Ryan Bates and Brown are the team's projected starters (from left to right). Ike Boettger remains on the roster after starting 17 games over the last two seasons, though he's still recovering from a torn Achilles tendon. Buffalo signed Greg Van Roten, David Quessenberry and Greg Mancz as free agents. Tommy Doyle and Luke Tenuta, meanwhile, are recent draft picks.
Besides, Ford is entering the final year of his rookie contract. An asset in return would be preferable to the lineman possibly walking as a free agent after this season.
Carolina Panthers: WR Robbie Anderson
A specific trade scenario that includes Carolina Panthers wide receiver Robbie Anderson could come to fruition.
The Panthers have been searching for a quarterback upgrade this offseason. They've failed at every turn. However, the strong possibility of a trade for Baker Mayfield remains on the table.
One option includes Anderson as part of said deal.
Last month, CBS Sports' Josina Anderson threw Anderson's name into the mix.
The Browns don't want eat the entirety or even the majority of Mayfield's $18.9 million salary-cap hit. By dealing Anderson, the Panthers would create extra space to offset Mayfield's deal, and the Browns would get a player of value at a position of need.
Carolina still has D.J. Moore, Terrace Marshall Jr. and Rashard Higgins to serve as its top three wide receivers—not to mention a healthy Christian McCaffrey for 2022—and a starting quarterback holds significantly more value than a No. 2 target.
Chicago Bears: Edge Robert Quinn
The Chicago Bears may not be rebuilding, but they're certainly starting anew under general manager Ryan Poles and head coach Matt Eberflus.
"We're constructing a very good football team," Poles told reporters prior to the draft. ''Regardless [of] how you use whatever term that is, we just continue to add talent. And young talent, older talent, whatever it takes to make the best team possible."
That response suggested the franchise was piecing things together without a consistent plan. It showed when the organization failed to place the necessary pieces around last year's No. 11 overall pick, quarterback Justin Fields, during draft weekend.
Maybe Poles and Co. should embrace a rebuild. A brand-new regime gets some leeway to implement its vision, but a player like Robert Quinn isn't a long-term solution.
No one can deny his ability to rush the passer and his near-superhuman ability to bend the edge and serve as one of the game's best sack artists. Even so, the 11-year veteran is 32 years old with a $17.1 million salary-cap hit this season. A trade would clear $12.9 million off the books.
The Bears can take the money they save this year and roll it into next offseason's biggest nest egg to really kick-start their building plan.
Cincinnati Bengals: S Jessie Bates III
The Cincinnati Bengals sit in a precarious position with one of their best players.
Earlier this offseason, they placed the franchise tag on Jessie Bates III. The 25-year-old safety plans to hold out in an effort to obtain a long-term deal.
In May, ESPN's Jeremy Fowler reported that Bates "does not intend to play on the tag, and when I asked a source involved what will happen if no deal is reached by July 15, the source said things will get 'interesting.'"
As Bates awaits a long-term extension, the Pittsburgh Steelers' Minkah Fitzpatrick signed a four-year, $73.6 million deal to make him the game's highest-paid safety in total value, average annual salary ($18.4 million) and guaranteed money at signing ($36 million).
Those numbers likely take the Bengals out of the market, especially when they are already prepared for the possibility of life after Bates.
During April's draft, the organization used the 31st overall pick on Michigan safety Dax Hill. Second-round pick Cam Taylor-Britt presents some corner/safety flexibility. The Bengals also chose Toledo safety Tycen Anderson in the fifth round.
If Bates won't play under the franchise tag, a trade may be necessary.
Cleveland Browns: QB Baker Mayfield
At this point, a Baker Mayfield trade is more about when, not if, it happens.
The Cleveland Browns made a decision to pursue Deshaun Watson. As soon as that occurred, the organization moved on from Mayfield as its starting quarterback, whether it wanted to admit it or not.
The No. 1 overall pick in 2018 certainly did. Nonetheless, Mayfield shouldn't have immediately written a thank you letter upon news of the Browns' chase for another signal-caller. A trade demand was the next logical step, much like Matt Ryan quietly requested from the Atlanta Falcons after their pursuit of Watson.
A reconciliation doesn't seem likely, even if the Browns are without Watson for an extended period of time. The league is expected to issue a lengthly suspension to Watson under its personal-conduct policy after there were 24 lawsuits filed against him, some of which are still pending, accusing him of sexual assault or misconduct during massage sessions.
"No. I think for that to happen there would have to be some reaching out," Mayfield told Sooner Scoop's Carey Murdock. "But we're ready to move on, I think, on both sides."
At this point, the biggest holdups revolve around Mayfield's $18.9 million fully guaranteed fifth-year option, how many suitors are legitimately interested in him and how much of his salary they'd be willing to pay.
Because of the timing of the Watson acquisition, most teams already had their quarterbacks in place, with the bulk of their yearly budgets already spent.
The Browns aren't negotiating from a position of strength in a buyer's market. Maybe a team will increase its bid slightly before training camp begins. Otherwise, the Browns must place their hopes in an injury creating some leverage.