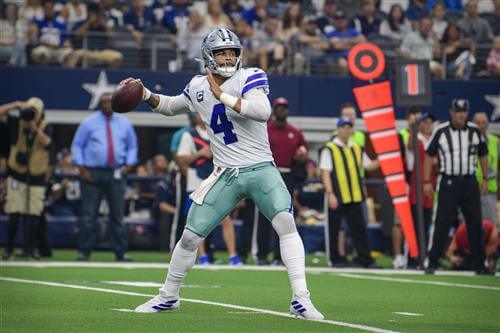 It takes a lot of courage to turn down a contract worth $30 million per season. That's the number that was reportedly on the table for Dak Prescott before the beginning of the regular season.
Of course, the devil is in the details. There's no word on what the structure of the Cowboys' offer was, or what guarantees were included. Still, there was a substantial deal for Prescott, and he rolled the dice by turning it down and waiting for more.
That's especially brave when you consider that $30 million sounded like a lofty but worthwhile goal for Prescott earlier in the year. He had a chance to become one of the highest-paid players in the NFL, but Prescott bet that he'd be able force the Cowboys to pay more. It looks like he was right.
Prescott's leverage is at an all-time high
In the first three seasons of his career, Prescott wasn't quite an elite quarterback.
While his 104.9 passer rating in 2016 was third-best in the NFL, his 23 touchdown passes ranked 15th. He threw 22 touchdowns in 2017 and another 22 touchdowns in 2018. Six rushing touchdowns in each of his first three seasons added to his value, but at best he proved himself an above-average quarterback.
That's not to say he was disappointing, by any stretch. So far in his career, he's been an efficient passer and stepped up his production upon the arrival of Amari Cooper, the legitimate deep threat Dallas was desperately missing. Prescott's numbers also compare favorably to Jared Goff and Carson Wentz — two other 2016 draftees who each got lucrative contract extensions in 2019 and were picked much earlier than he was.
Prescott's leverage for a new contract has stemmed from how difficult he would be to replace.