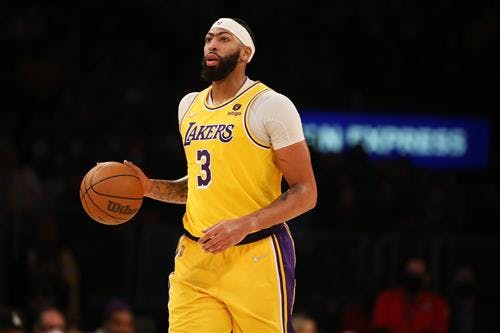 The Los Angeles Lakers are not a good basketball team right now, holding a very poor 16-18 record in the Western Conference. With LeBron James on the roster, the Lakers will most likely make the playoffs although they will not get far if they do. Los Angeles cannot defend, play slow offense, and have a turnover-prone style of play. Not to mention, James is nearly 37 years old.
But LeBron's age means the Lakers need to make moves to compete right now, instead of waiting for this current roster to start clicking on both ends of the floor. With nearly half the season completed, we have a very good indication of what to expect from the Purple and Gold. Specifically, Los Angeles will be lucky to make the postseason and will suffer a first-round exit if they get there. There is no way they can compete with the Suns, Warriors, Bucks, Nets, and any other top team in the league.
Anthony Davis is currently injured and out for the next month or so, and he has not been a dominant player when healthy this season. If the Lakers want to make major moves, they should consider moving Davis for a chance to bolster the roster. LeBron is untouchable and Russell Westbrook's contract is almost untradable, meaning Davis needs to be the man to be moved if the Lakers want to start making a run for the championship again. Here are the 5 best trade packages for Anthony Davis that the Lakers might have to accept.
Atlanta Hawks
Trade Package: John Collins, Bogdan Bogdanovic, Cam Reddish, 2022 First-Round Pick, 2023 First-Round Pick, 2023 Second-Round Pick for Anthony Davis
The Atlanta Hawks are a very solid the led by their superstar Trae Young. The point guard is averaging 27.3 PPG and 9.3 APG this year, solid numbers for a bonafide All-Star in the Eastern Conference. Looking at Atlanta's roster, they could use another superstar player to take them over the top. Last year, as currently constructed, Atlanta made the Eastern Conference Finals but were nowhere near as good as the eventual champion Milwaukee Bucks. This year, we are seeing much of the same.
The Hawks currently have a 15-17 record and do not seem like a contender like the Bucks and Nets are in the East. John Collins is a very solid starter, putting up 17.6 PPG and 7.9 RPG for the Hawks as a rim-runner and lob partner for Trae Young. But he can be danged as bait because he is young (24) and has a very high ceiling, while Bogdanovic and Reddish bring outside shooting and size.
For the Lakers, the franchise will acquire three players who bring size and outside shooting; ingredients the team desperately need. Los Angeles will be giving up the most talented player, but 3 players coming at the expense of 1 could be in their cards after a putrid start to their season. For the Hawks, a Big Three of Young, Collins, and Clint Capela makes them a great team in the East.
New York Knicks
Trade Package: Julius Randle, Mitchell Robinson, Evan Fournier, 2022 First-Round Pick, 2023 First-Round Pick for Anthony Davis
The New York Knicks have always needed a superstar since Carmelo Anthony left the team a few years ago. Without disrespect to Julius Randle, New York need a generational talent that can score and dominate other areas of the floor. Randle is having a solid season by putting up 19.9 PPG, 9.8 RPG, 5.1 APG, and 0.7 SPG for a Knicks squad that is fighting for a playoff spot. As currently constructed, New York will never make it out the first round of the playoffs.