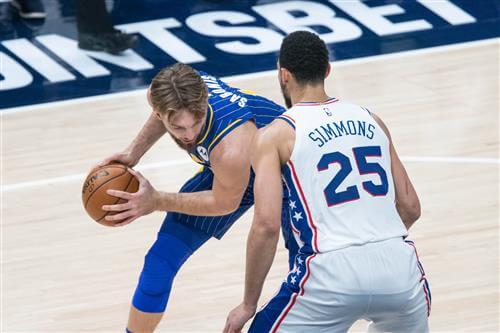 As the NBA regular season rages on, so does the Ben Simmons saga for the Philadelphia 76ers. Trade season is finally upon us, and we are starting to see the rumor mill begin to swirl once again. As of now, there is no hotter name on the trade market than Simmons.
Despite how long this stalemate between player and organization has dragged on, one thing has remained constant: Daryl Morey will not sell low on the former No. 1 pick. He remains in pursuit of an All-Star-caliber player to exchange for Simmons and pair alongside Joel Embiid in his prime. That being said, here are three players Morey needs to avoid in trade talks.
Players Sixers must avoid in Ben Simmons trade discussions
1) Domantas Sabonis
Based on reports, Domantas Sabonis might be the biggest name available via trade outside of Simmons. Indiana appears to be heading toward a rebuild and is looking to move on from multiple key players, with the All-Star big man just one trade candidate.
So far this season, Sabonis has put up similar numbers to his two All-Star seasons. The 25-year-old is currently averaging 18.3 points, 11.8 rebounds, and 4.2 assists. While Sabonis fits the criteria of an All-Star-level player, his fit on the Sixers is questionable at best.
We are not far removed from the Al Horford experiment in Philadelphia and how poorly that went. Putting Sabonis in the frontcourt with Embiid could potentially have even worse results if a trade were to go down. His set of skills don't complement the Sixers' franchise cornerstone.