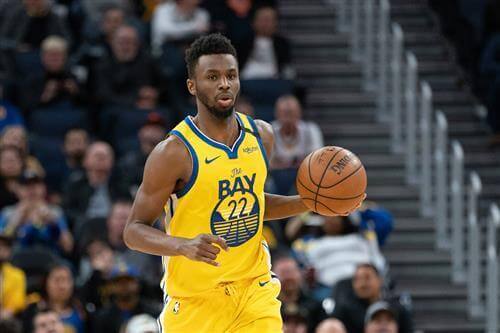 After trading away D'Angelo Russell for Andrew Wiggins, the Golden State Warriors have to decide what to do with the Wiggins moving forward. Now the question is, what should the Warriors do with him in the offseason?
The big picture: Should the Golden State Warriors move Andrew Wiggins in the offseason after trading D'Angelo Russell for him or should he remain on the roster to grow?
Andrew Wiggins' Warriors stats
Touted as the next "LeBron James," the former Minnesota Timberwolves wing hasn't lived up to expectations. Although he has a penchant for taking long twos and mid-range shots, it's undeniable that Wiggins' athleticism is there.
Though he is very successful when he attacks the basket for his career – shooting around 53.3% within 16 feet – Wiggins is still taking more 30% of his shots from three-point land. Considering he's a below-average shooter from three (33%), that's a shot he needs to reduce until he gets better.
For his career prior to the Warriors, Wiggins put up:
19.4 points on 44%/33%/73% from the field, three-point land and the charity stripe, respectively
He averaged 4.3 rebounds and 2.2 assists per game in 36 minutes a game
One steal and 0.6 blocks per game
A former first overall pick as athletically gifted as Wiggins is, those numbers need to improve. In his 12 games as a member of the Warriors, Wiggins' numbers stayed fairly consistent, with him taking about 66% of his shots from within the three-point line.