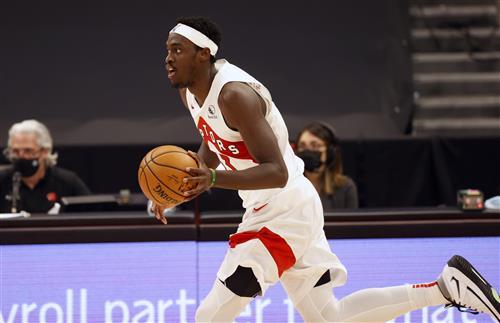 The Golden State Warriors are reportedly resistant to dealing what could be a high draft pick, but one insider has come up with a scenario in which the team would part with the top asset in exchange for an All-Star big man.
With the NBA's trade deadline now less than a week away, the speculation surrounding the Warriors continues to grow. The team has given indications that there will not be any moves to help a short-term playoff push and that two of the most coveted assets are off-limits, but there could be one deal too good to turn down.
In a recent podcast, Bill Simmons proposed a deal where the Warriors would trade Andrew Wiggins and the 2021 top-three protected draft pick that came from the Minnesota Timberwolves as part of last year's D'Angelo Russell trade to the Raptors in exchange for Pascal Siakam. While Simmons didn't believe either team would actually endorse the deal, he said that the Minnesota pick could end up being a valuable piece of trade bait.
"I actually think both teams say no. But there would definitely be three-hour meetings on both sides," Simmons said, via NBC Sports Bay Area. "That Minnesota pick — it's such a fascinating trade asset because it could end up being awesome. Seems like it's gonna be awesome."