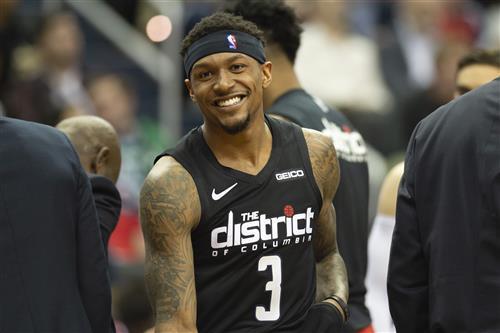 Help may be on the way to Kyrie Irving, Kevin Durant and the Brooklyn Nets. And if it comes in the form of Bradley Beal, Brooklyn will have one of the game's most talented Big Threes.
"Immersed in their championship window, the Brooklyn Nets are in the market for a third star and have internally discussed avenues of acquiring Wizards guard Bradley Beal," Stefan Bondy wrote for the Daily News. "It's unclear whether Beal will become available, though his circumstances have prompted speculation. The two-way guard is among the league's highest-paid players and on a Wizards team with a low ceiling."
If Washington ever decides to steer into a rebuild, teams will likely be lining up with offers for Beal. The 26-year-old 2-guard is averaging 30.5 points, 6.1 assists and 3.0 threes in 2019-20. Stephen Curry and James Harden are the only players in league history to post 30-6-3 campaigns.
And his game seems plenty portable. He's already shown an ability to coexist with another ball-dominant star in John Wall. It would likely be even more of an adjustment to play alongside KD and Kyrie, but shooting is one of the most important ingredients in these superteam recipes. And Beal is a career 38.0 percent shooter from deep.
The asking price will have a lot to do with how many teams are interested, but Brooklyn figures to have enough to at least present some interesting possibilities.
In January, Kyrie had some eyebrow-raising comments about the team's supporting cast. And since then, the idea of a trade has hovered over the Nets:
"I mean, it's transparent. It's out there. It's glaring, in terms of the pieces that we need in order to be at that next level.
"I'm going to continue to reiterate it. We're going to do the best with the guys that we have in our locker room now, and we'll worry about all the other stuff, in terms of moving pieces and everything else, as an organization down the line in the summer. ...
"Collectively, I feel like we have great pieces, but it's pretty glaring we need one more piece or two more pieces that will complement myself, [Durant], [DeAndre Jordan], [Garrett Temple], [Spencer Dinwiddie], Caris [LeVert], and we'll see how that evolves."
Well, to get a piece like Beal, the Nets would likely need to be willing to part with some of the players Kyrie named. For starters, it'll likely take an intriguing youngster, salary-matching contracts and draft picks to get Washington to budge. Brooklyn can feasibly send all of that.