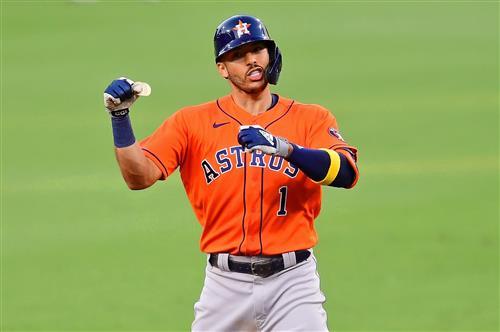 The MLB rumor mill has had a busy week, and things are only getting started, with the December 6-10 winter meetings (virtual edition) right around the corner.
Houston Astros shortstop Carlos Correa is among the more surprising names to have surfaced in rumors recently.
On Monday, a report emerged from Ken Rosenthal of The Athletic that the Astros star was being "floated" in trade talks, causing a stir across the MLB landscape.
In a rare turn of offseason events, Rosenthal later retracted that report, writing: "While the Astros, like most teams, will entertain all trade possibilities, the source said the characterization of the club 'floating' Correa's name, cited in the initial version of this story, was inaccurate."
Maybe that's true, or maybe the Astros are trying to avoid a situation like the one the Colorado Rockies faced with Nolan Arenado last offseason when he expressed his displeasure with being publicly shopped and was eventually pulled off the trade block.
It would also hurt Houston's bargaining power if it became known the team is intent on trading him before the season starts.
Whether he's available or not, we can still speculate on what a Correa trade might look like and which teams might be in the mix for his services.
The 26-year-old is a year away from reaching free agency as part of a loaded class of shortstops that includes Francisco Lindor, Corey Seager, Trevor Story and Javier Baez.
Let's start by eliminating some teams from the running.
Here's a quick-hit rundown of why the teams not included as potential landing spots were removed from the conversation:
ARI: Rebuilding, non-contender
ATL: Dansby Swanson
BAL: Rebuilding, non-contender
BOS: Xander Bogaerts
CHC: Javier Baez
CWS: Tim Anderson
CLE: Cutting costs
COL: Trevor Story
DET: Rebuilding, non-contender
KC: Rebuilding, non-contender
LAD: Corey Seager
MIL: Lacking trade assets
MIN: Jorge Polanco
NYY: No love lost between Yankees and Correa, hard to see a fit
OAK: Small-market team, unlikely to move controllable talent
PHI: Lacking trade assets
PIT: Rebuilding, non-contender
SD: Fernando Tatis Jr.
SF: Unlikely to target short-term assets
SEA: Rebuilding, non-contender
STL: Paul DeJong
TB: Small-market team, unlikely to move controllable talent
TEX: Cutting costs
WAS: Trea Turner