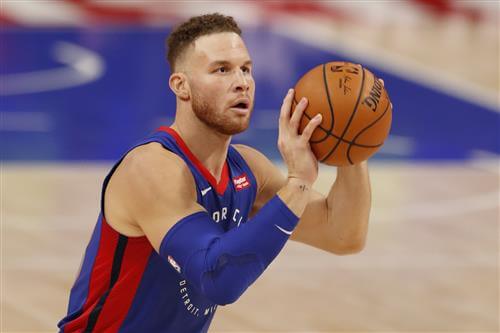 Blake Griffin is a former All-Star who has been underperforming this season: he is currently averaging 12.9 PPG, 5.9 RPG, and 4.3 APG. This is a far cry from his Clippers day. But Blake Griffin still has something in the tank: during his lone All-Star season in Detroit in 2018-19, Griffin averaged 24.5 PPG, 7.5 RPG, and 5.4 APG. At this point, perhaps Griffin won't reach those heights again. But he is still a useful player for teams who want a big man with spacing: Griffin has developed his 3PT shot during the last few years of his career.
With the Detroit Pistons currently going through a rebuild, they should trade Blake Griffin away for some future assets. The type of team that would take a flyer on Blake Griffin is a team that is looking for more talent to put them over the top. Blake Griffin won't carry an offense anymore, but he can be a great complementary player in a supporting role on a team that wants to play in the offseason. Here are some teams that could take a chance on the former All-Star.
5. Dallas Mavericks
Dallas Mavericks Receive: Blake Griffin
Detroit Pistons Receive: James Johnson, Dwight Powell, Maxi Kleber, a future first-round pick.
The Dallas Mavericks have started the year off with a 6-7 record, and are currently in the 10th seed in the Western Conference. Adding Blake Griffin to be the third man up behind Luka Doncic and Kristaps Porzingis could be an intriguing proposition. When healthy, Blake Griffin is a solid inside player and passable floor spacer. Putting two shooting big men next to Luka Doncic would be good, as they can knock down shots when needed due to Luka Doncic's ability to pressure the rim. Blake Griffin could be a natural fit next to a superstar like Doncic. Griffin would also increase the roster's overall talent level and provide mentorship to the two young Dallas stars.
The Detroit Pistons would receive a solid package of players in return for Griffin. Dwight Powell and Maxi Kleber are both big men who can defend and shoot: they could use more shooters overall around their slashers like Derrick Rose. James Johnson is a good defender at the forward position. Essentially, the Detroit Pistons would trade an aging star for some okay players. The future first-round pick could be useful, but it could also be a less valuable pick due to the Mavericks probably being a good team. Regardless, it's a solid haul for the Detroit Pistons, and this trade would also allow Griffin to compete for the playoffs.
4. Atlanta Hawks
Atlanta Hawks Receive: Blake Griffin
Detroit Pistons Receive: Clint Capela, Tony Snell, a future second-round pick
The Atlanta Hawks trading for Blake Griffin could be beneficial for their outlook this season. After a hot start, the Atlanta Hawks have recently fallen to a 6-7 record in the Eastern Conference. With this trade, the Hawks could run two power forwards in the rotation. John Collins could get some of the easy opportunities that Capela was getting at the rim, while Blake Griffin could space the floor for Trae Young. Blake Griffin would be a beneficiary of Young's offensive presence as he wouldn't have to create shots for himself as he does on the Detroit Pistons. This would lessen the wear and tear on his body.