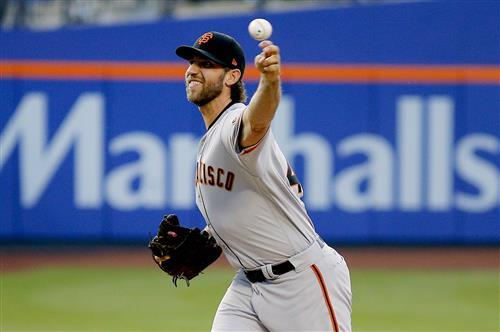 The Major League Baseball trade deadline is roughly a month and a half away, but trade season appears to have started in earnest with the Seattle Mariners shipping Jay Bruce to the Philadelphia Phillies. While the trades won't exactly come fast and furious from this point on, it is essentially a starting gun for a trade deadline that looks like a potential buyer's market given the number of teams that will probably be willing to make players available.
Who will be on the move? Here are ten names to watch leading up to July 31.
10. Trevor Bauer, P, Indians
Bauer was perhaps surprisingly floated in trade talks during the offseason, but Cleveland ultimately opted to keep him while they make another run at a division title. That run has not gone well so far, with the Indians falling well behind the runaway Minnesota Twins. In Bauer's case, again, it's likely that things will have to get worse over the next month and a half for them to trade him. The Indians still want to try to get back into wild card contention, at the very least. However, if they floated the possibility of trading him once, they may float it again if circumstances dictate.
9. Zack Wheeler, P, Mets
It doesn't sound likely at the moment that the Mets will trade Wheeler, but if things don't turn around for them between now and late July, they're going to have some decisions to make. The 29-year-old is a free agent at the end of the season, is finally healthy, and is racking up strikeouts despite a somewhat underwhelming ERA. Starting pitchers with strikeout stuff are valuable commodities, and it's easy to see Wheeler as a cheaper alternative to the likes of Madison Bumgarner if the Mets give in and make him available.
8. Jose Abreu, 1B, White Sox
On paper, Abreu ticks all the boxes of an ideal trade candidate. He's 32 years old, in the final year of his contract, and a member of a team that won't be contending in 2019. So why so low a probability of him being traded? The White Sox have repeatedly signaled their interest in keeping and re-signing Abreu to a new deal, and the organization thinks extremely highly of him. So while Abreu has the profile of a trade candidate, the White Sox seem to have different ideas. He still bears watching, but this one doesn't look too likely right now.
7. Whit Merrifield, IF, Royals
Merrifield signed a long-term deal with the Royals in January, but the exceedingly team-friendly pact might only serve to increase his trade value. Mayfield is a solid hitter, a base-stealer, and a utility player who can play five positions. The team has given signals that he's available, and it would be easy to see Merrifield fulfilling the sort of role that deadline acquisition Ben Zobrist occupied when the Royals won the World Series in 2015.
6. Marcus Stroman, P, Blue Jays
Stroman has been the subject of near-constant trade rumors for some time now, and there is very little reason for Toronto to hold onto him past July 31. Stroman has done a lot to enhance his value, posting a sub-3 ERA over the first two months of the year. Stroman is still only 28 and has another year of team control after this one, which may drive his cost higher, and he hasn't always been consistent in the past. He's pitching well right now, however, and that's the most important part for teams that may be acquiring him.
5. Alex Gordon, OF, Royals
The longest-tenured Kansas City Royal may finally be coming toward the end of his reign, with the team in full rebuilding mode.