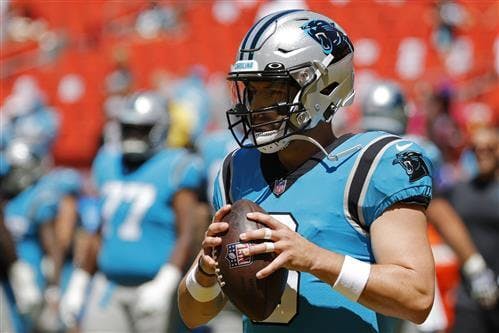 The dynamics at quarterback are different than at other positions. A quarterback tends to get too much credit when a team wins and too much of the blame when his team loses.
Generally, the backup quarterback is a fan favorite. It doesn't take much for there to be a clamoring for the second-stringer to play unless there is an Pro Bowl-caliber starter in front of him.
Head coaches usually don't bench quarterbacks during the earliest stages of the season. It usually takes a little time for a change to be made. Here are three quarterbacks whose starting jobs could soon be in jeopardy without improved play.
Mitchell Trubisky, Steelers
Trubisky was signed to a two-year, $14.285 million contract worth up to $26.785 million through incentives to help transition from Ben Roethlisberger, who retired after 18 years with the Steelers. Selecting Kenny Pickett with the 20th overall pick in this year's NFL Draft put Trubisky on notice that he wasn't Pittsburgh's long-term solution at quarterback.
Pittsburgh's offense has been struggling with Trubisky under center. Trubisky has been criticized for a reluctance to throw the football down the field. He is averaging a league-worst 5.5 yards per pass attempt. Trubisky also ranks 26th in the NFL with a 60.2 completion percentage and has a 77.7 passer rating, which is 29th.
Offensive coordinator Matt Canada has come under fire as well for the problems with the offense. The Steelers are 31st in the league with 272.7 yards for per game and have only scored four offensive touchdowns in three games.
Mike Tomlin has never had a losing season in his 15 years as Steelers head coach. Extending the streak to 16 seasons may not be an easy task given the 1-2 start and the upcoming schedule. After the Jets on Sunday, the Steelers face the Bills, Buccaneers, Dolphins and Eagles in succession. Realistically, the Steelers could be 1-7 or 2-6 after that stretch heading into a bye week. It wouldn't be surprising for Tomlin to make a switch to Pickett after the bye if the offense is still stagnant.