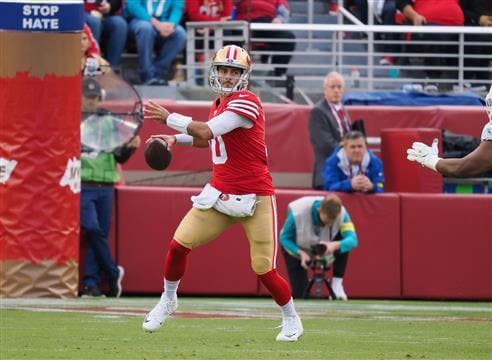 Tom Brady has finally retired. And it does feel like for good this time. The future Hall of Famer dropped an unexpected video from his social accounts this morning announcing his decision to walk away after one last disappointing season with the Tampa Bay Buccaneers.
Obviously we cannot just take this at face value and there remains a possibility that Brady returns, again, before the next season starts. If he does not, though, the Bucs are in a tough spot. They have a roster loaded with highly-paid veterans and no quarterback to take advantage of it. The team still employs Blaine Gabbert and Kyle Trask but there is no reason to believe either is capable of revitalizing an offense that struggled mightily last season.
So the Bucs will probably look outward for their next quarterback, and will be aggressive in doing so as the NFC South is still wide-open. Here are a few potential Brady replacements for Tampa Bay.
Aaron Rodgers
Why not replace one quarterback who probably should've retired a year ago with another? Rodgers and the Green Bay Packers finally seem headed for divorce. Tampa Bay is as good a spot as any for him to end up considering their top-end receiving talent and nearly-guaranteed playoff spot, what with the Falcons/Saints/Panthers not getting better anytime soon. The Bucs would love to have him and Rodgers would certainly fit in with certain parts of the Florida Man population.