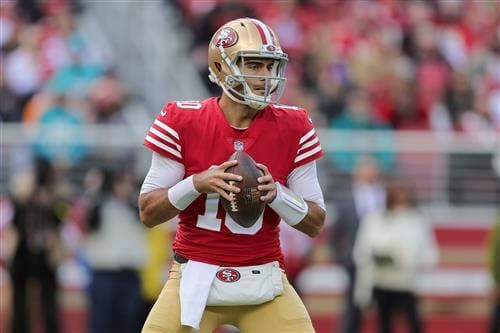 The San Francisco 49ers' Super Bowl hopes came crashing down around them on Sunday as Kyle Shanahan finally experienced a quarterback problem that he couldn't overcome. The loss to the Philadelphia Eagles almost certainly marked the last game of Jimmy Garoppolo's 49ers tenure. Garoppolo, who started as the second-string quarterback, but ended up starting 10 games before he got injured, will be an unrestricted free agent in March, and while he has gotten the job done while healthy in San Fran it would be best for both parties to move on.
Garoppolo's market does not look as good as it did a few months ago. Derek Carr is officially available. Aaron Rodgers and Tom Brady might be, too. Those dominoes will need to fall in order for Garoppolo's future to crystalize. We can, however, take a gander at what teams will at least be interested in the veteran QB who, when healthy, is good enough to win games and fight for the postseason.
What will be the next stop on Garoppolo's fascinating career journey? Here are a few potential destinations.
Washington Commanders
The Commanders are almost certainly going to cut Carson Wentz this offseason because they can do so with no financial penalty. Taylor Heinicke is also going to be a free agent. Neither of those guys got it done last year and as much as everyone loves Heinicke conceptually, the on-field product was not good with him under center. Sam Howell looked okay in his first NFL start but he is still far from capable of leading even an average team. The job is open.