Wednesday's baseball action highlighted three players and their ridiculous skill-set. We all know that these players possess these skills...but on Wednesday they all gave us video to back it up.

Billy Hamilton of the Cincinnati Reds is FAST:
Hamilton's minor league base-stealing numbers are legendary. In 2011 he swiped 103 bases and he followed that up with a staggering 155 steals in 2012. This season Hamilton is finally getting his shot at the big league level with the Reds. If he doesn't learn how to hit (and more importantly get on base) in the show he will be on a fast-track back to AAA, but on Wednesday he showed us a flash of his blazing wheels by scoring on a sac fly to deep 2nd base.
---
Editor's Note: Pro Sports Daily's partner FanDuel is running a $15,000 fantasy baseball league tonight. It's $2 to play, and the winner takes $2,000. Click here to join.
---
Andrelton Simmons of the Atlanta Braves has a STRONG ARM:
I don't think it's a stretch to call Andrelton Simmons the best defensive shortstop in baseball. The guy can, seemingly, do anything that he wants while patrolling the left side of the infield for the Braves. On Wednesday night he had an opportunity to show off his insane throwing arm when he slipped on to his butt while fielding a ball on his backhand in the hole between short and third. Spectacular.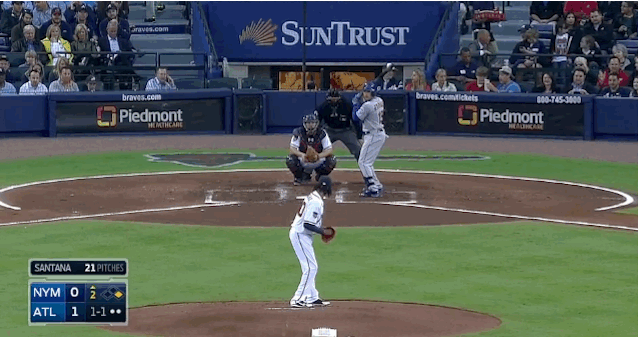 Bryce Harper of the Washington Nationals is STRONG:
This past off-season Harper was voted as the "Most overrated player" in baseball by his peers. While he hasn't yet lived up to the unattainable hype that surrounded his arrival on the big stage, one thing that you can't take away from him is the fact that he can hit a baseball a long way. He hit his first home run of the season on Wednesday night...and it was large.