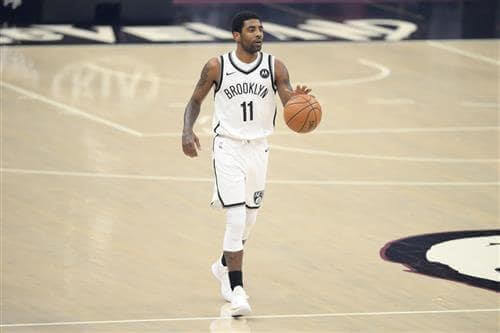 The Brooklyn Nets will be one of the favorites to win the NBA Championship this season but they might have to do it without their All-Star point guard. Kyrie Irving will likely not play for the Nets this season and that will continue to be a storyline over the beginning of the regular season.
Irving refuses to get the COVID-19 vaccine and this will not allow him to play in games in the state of New York. The Nets' organization did the right thing by shutting him down for the year if this is the case. It would not make sense for Irving to just appear in road games and it would not help come postseason time.
Kevin Durant signed a contract extension this offseason and the Nets have said that they will not offer Irving an extension. This is not surprising given the previous two years he has put together in Brooklyn. Irving could be a big-time trade piece at the deadline if the Nets want to part ways.
This is a chance for a rebuilding team to potentially add an all-star talent. The Detroit Pistons come to mind because of the core that they have in place. Detroit landed Cade Cunningham with the first-overall pick in the 2021 NBA Draft. He is the centerpiece of the franchise, along with Saddiq Bey and Isaiah Stewart.
The addition of Irving could lead the Pistons to where they want to be. The Pistons have been a rebuilding team looking to get younger and that is what they have accomplished. Now, they could take a chance on a player that might be in for a change of scenery.
If the Brooklyn Nets want to part ways with Irving, there will be plenty of trade suitors. Here is how he might end up in Detroit at some point moving forward.
Detroit Pistons Receive: G Kyrie Irving
Brooklyn Nets Receive: F Jerami Grant, F Josh Jackson, G Cory Joseph
Kyrie Irving would be the clear centerpiece of this trade. He is one of the biggest names in the NBA and still an elite point guard when on the floor. Over the last two years, that has been the problem.
The Detroit Pistons could line up well for this trade because of what they have to offer.
Jerami Grant would lead the return going back to the Brooklyn Nets. He has two years remaining on his deal and might not be a long-term piece for the Pistons.