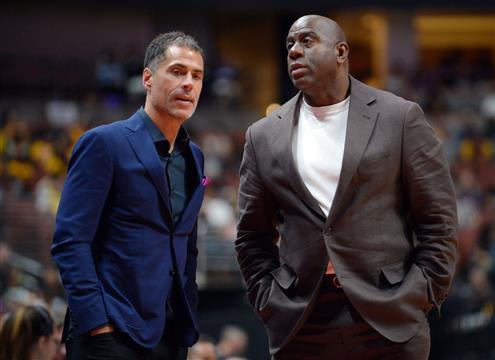 Magic Johnson has stepped down as Lakers president of basketball operations, a moment that has inspired mixed emotions from fans across the country. The Lakers have been one of the most disappointing stories of the season. After signing the best player in basketball, they will miss the playoffs with the sixth-worst record in the Western Conference.
Los Angeles' struggles are not all LeBron James' fault, though his groin injury cost the Lakers some games, and his despondent, lackadaisical temperament rubbed off on his teammates. The brunt of the blame falls on the front office, for setting up this team for failure, one botched decision after another.
Not trading for Paul George
Magic Johnson officially replaced Jim Buss as president of basketball operations on Feb. 21, 2017. The NBA's trade deadline was Feb. 23, but George didn't inform the Pacers he wouldn't be re-signing with them until June.
The Pacers, according to ESPN's Adrian Wojnarowski, would have dealt George to the Lakers if they included one of Brandon Ingram or the No. 2 overall pick of the 2018 NBA Draft in the deal. Johnson chose not to.
Instead he bet that George would sign with his hometown team when his free agency rolled around one summer later. He didn't want to pony up the assets or young players Indiana wanted.
He lost that bet, badly.
The Pacers dealt George to Oklahoma City for Domantas Sabonis and Victor Oladipo (a steal for the Thunder at the time, which has since proven to be an incredible deal for Indiana), and Russell Westbrook convinced his new All-Star teammate to re-sign in OKC — at a discount: four years, $137 million.
Yikes.
Trading D'Angelo Russell
Forget the fact that Russell has turned into a legitimate star in Brooklyn, the type of player who could take the pressure off of LeBron James as a real-life playmaker on this Lakers roster. (Actually, don't forget that. Let it marinate.)
Johnson said Russell wasn't a leader, then traded him to Brooklyn before drafting his replacement. Talk about workplace culture. Who would feel secure in their job after watching the best point guard of all-time publicly humiliate a budding star before sending him off elsewhere?
The jury is still out on Russell, and the Lakers did get the pick that became Kyle Kuzma as part of the deal. The Lakers also unloaded Timofey Mozgov's contract in the Russell trade, which allows them to pursue a second max free agent they otherwise would not have been able to afford.
The 2019 free agency
No, signing LeBron James wasn't a bad idea. It was the best possible outcome for the Lakers to land the biggest fish on the face of the planet.