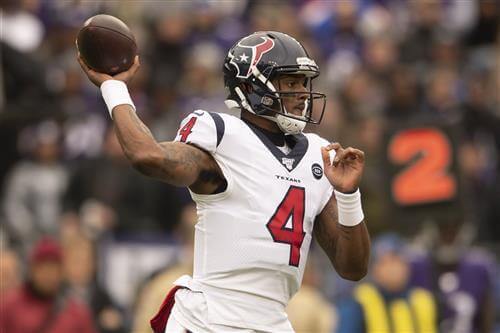 A Deshaun Watson trade is coming this offseason with the Houston Texans planning to swing a blockbuster deal early this spring. Despite the Pro Bowl quarterback's off-field issues, there will be suitors lining up to acquire him and an eventual move will shake up the NFL.
Watson is facing accusations of 22 sexual misconduct and assault during his NFL career. Many of his accusers were deposed in December and the civil case moving forward with a pre-trial conference scheduled for May. The Texans' quarterback is also facing 10 criminal complaints and investigations by the FBI, NFL and the Houston Police Department.
Despite all of it, a trade nearly happened during the 2021 regular season. But with a resolution looming in the months ahead, the Texans will likely be able to land even more this time around. With that in mind, let's examine the best landing spots for Deshaun Watson.
Carolina Panthers land their franchise quarterback
David Tepper, the Panthers' owner, desperately wants a franchise quarterback. He pushed to acquire Watson in February and despite the 22 allegations against him, still believes Watson can fix Carolina's on-field problems. It's also important to note that head coach Matt Rhule will be on the hot seat in 2022, meaning both the coach and team owner are in desperation made. That's something the Texans can exploit.
Carolina Panthers receive: Deshaun Watson
Houston Texans receive: Sam Darnold, Terrace Marshall, CAR"s 2022 & 2023 1st and 2nd round picks, CAR's 2024 1st and conditional 3rd round pick
While Watson originally refused to play anywhere but Miami, things have changed. With Brian Flores out as the Dolphins head coach, Watson will likely become more receptive to other landing spots. While Carolina's location can't match Miami, the Panthers can offer a skill group that will include Christian McCaffrey, D.J. Moore and Robby Anderson.
Houston wouldn't want Sam Darnold as a trade chip, but there's another benefit to acquiring him. If the Texans eat his guaranteed $18 million salary in 2022, the Panthers would gladly offer additional draft-pick compensation. This deal gives Carolina a franchise quarterback and Houston lands three first-round picks, two seconds, a young receiver and a third-round pick that becomes 2024 2nd if Carolina makes the playoffs next season.
Deshaun Watson traded to New York Giants
The New York Giants need to make changes this offseason and letting Dave Gettleman retire isn't good enough. While Daniel Jones certainly didn't get the benefit of playing behind a great offensive line this season, 37 starts are enough to prove he isn't the answer. If this organization truly believes in Joe Judge and wants to utilize a core of skill players that includes Kenny Golladay, Kadarius Toney, Sterling Shepard and Saquon Barkley, it's time for a quarterback upgrade.
New York Giants trade: 5th overall pick, 7th overall pick (via CHI), 67th overall pick, 2022 NYG 1st
Houston Texans trade: Deshaun Watson