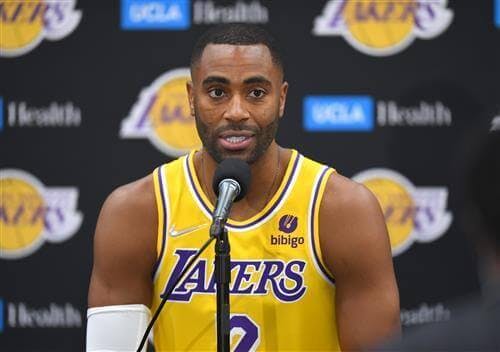 Entering the 2021-22 NBA season as the clear-cut title favorite in the Western Conference, the Los Angeles Lakers have stumbled their way to a 16-18 record to this point in the season and have really struggled in multiple areas.
Not only have they had some durability concerns with a variety of players, including LeBron James and Anthony Davis, missing games, but this team just has no chemistry amongst themselves. When on the court, James seems to be carrying this team and even his fellow All-Stars have not played great.
Anthony Davis has looked lost at times this season and Russell Westbrook does not seem to fit in at all with this group. The Lakers have not adjusted their system, they are terrible defensively and just do not move well compared to other teams in this league.
Los Angeles is still going to be a title favorite if they make the playoffs, but it is really hard to say that this team has a chance to win a title based on the "eye test".
Every time they look like they are starting to figure things out, they lose one or two games that they should have won, setting them back even further and forcing them to start all over in trying to figure out who they are as a team.
The Lakers are a team that is going to need to make some kind of a change before this year's trade deadline and that change could very well involve them dealing away both Talen Horton-Tucker and Kendrick Nunn.
While they would like to keep Horton-Tucker, he is their best young talent and is drawing interest from several teams across the league. At 21-years-old, Talen Horton-Tucker has a lot of potential to continue developing into a high-level two-way talent, which is why plenty of teams could be willing to give up value for him.
As for Kendrick Nunn, the Lakers signed him to a small contract in the offseason, but he has yet to play yet because of setbacks with injuries. The 2019-20 runner-up for Rookie of the Year has spent the last two seasons in Miami, averaging 15.0 points, 2.9 rebounds, 3.0 assists, and shooting 45.8% from the floor.
Los Angeles has no cap space and they are well over the tax line for this season, making trades virtually impossible for them, but if they were to combine Talen Horton-Tucker and Kendrick Nunn in a trade, plus maybe a veteran, they could create anywhere from $14M to $17M in a trade to bring in another high-level talent.
Is this a move the Lakers should and will look to make? Let's take a look at three trade targets for this team to consider in a trade involving both Nunn and Horton-Tucker.
Jerami Grant – Detroit Pistons
Jerami Grant has suddenly become the hottest name on the trade block across the NBA, which is a bit odd because the 27-year-old forward was just recently ruled out indefinitely because of some torn ligaments in his thumb.
Now in his 8th season in the league, Grant has always been known to be a reliable "3-and-D" type player out on the wing, but since joining the Pistons ahead of last season, he has turned himself into a borderline All-Star talent.
Since the start of last season, Jerami Grant has averaged 21.6 points, 4.7 rebounds, 2.7 assists, 0.8 steals, 1.1 blocks and has shot 42.5% from the floor, 34.4% from three-point range. Detroit is one of the worst teams in the league, but Grant is their leader and the current face of their rebuild, along with No. 1 overall pick Cade Cunningham.