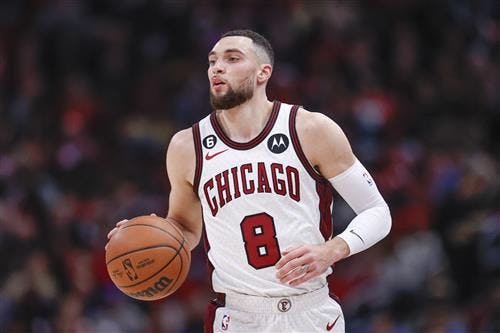 The Los Angeles Lakers have been linked with a series of rumors over the past couple of months. Even though their players have been thriving this season, trade rumors keep coming, and the Lakers could make a move soon to try to improve their level.
They already shocked the NBA with a move for Japanese forward Rui Hachimura, and it doesn't seem like this exchange with the Washington Wizards will be the only one they'll make before the trade deadline strikes.
The Purple and Gold keep being linked with a move for some stars around the league, and Zach LaVine appears to be a person of interest for them. The Chicago Bulls player has been a man in demand recently, and the Lakers appear to be following him.
While some think the Chicago Bulls would be reluctant to part ways with their star, NBA insider Zach Lowe reveals that the six-time NBA champion could be willing to move LaVine if the right offer comes along, and the Lakers could have it. During a recent edition of the Lowe Post Podcast, the veteran analyst talked about the chance of the Lakers landing LaVine.