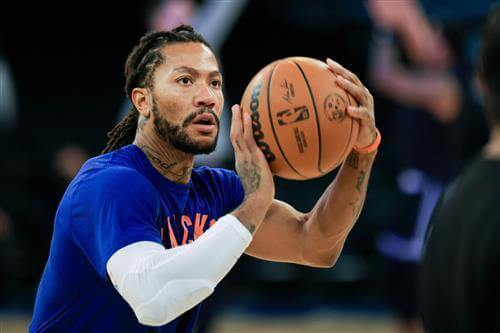 The Chicago Bulls have been a stellar team this season, and they have been one of the best teams in the Eastern Conference thus far. Based on their regular season so far, they may be in contention for the NBA championship.
A lot of good teams often make an extra move or two during the season to further improve their roster. The Chicago Bulls could elect to do that. Perhaps they could move for a Chicago legend, Derrick Rose. Here is a potential trade scenario where that happens:
Chicago Bulls Receive: Derrick Rose
New York Knicks Receive: Coby White, Derrick Jones Jr., a future second-round pick
The Chicago Bulls Bring Back Their Former MVP
Derrick Rose is cemented as a legend among Chicago Bulls fans. He was the youngest ever MVP, and he brought the Bulls to the playoffs multiple times during his tenure with the franchise.
While Rose is no longer the MVP-caliber player he once was, he is still a fantastic bench scorer. Rose is currently averaging 12.0 PPG and 3.4 APG in 22.9 MPG this season. The reason Rose's minutes have fallen this year is due to the multitude of guard options the New York Knicks have.