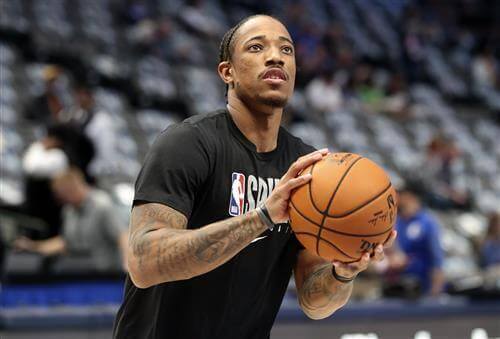 The New York Knicks finally have a big name for the franchise. It might not be a superstar player, but former Chicago Bulls head coach Tom Thibodeau is now the head coach of the New York Knicks. With a 5-year deal, the Knicks have acquired their head coach for the foreseeable future.
Tom Thibodeau is a coach who bases his entire system around hard work and defense. He is known to absolutely run players to the ground with their work ethic, which is not always a good thing. But for the Knicks, this is a very good thing. They like any sort of competitiveness and need a massive culture change.
With Tom Thibodeau on board, The Knicks must acquire the appropriate players to fit his system. Here are the perfect players that the Knicks can acquire next season to fit Tom Thibodeau's new system in New York.
10. Dwight Howard
7.5 PPG, 7.4 RPG, 1.2 BPG, 73.2% FG
Dwight Howard has revived his career with the Los Angeles Lakers. Even though he's the backup big man, Howard is showing the dedication and willingness to play major minutes again. Howard's dedication is impressive, and Thibbs might want Howard to prove himself as the team's starting big man.
Howard's Finals experience would come in handy for the Knicks, while D12 might miss being the center of attention again with a chance to prove himself once more.
9. Hassan Whiteside
16.3 PPG, 14.2 RPG, 3.1 BPG, 61.8% FG
Hassan Whiteside was brought in by the Portland Trail Blazers to be the team's center since Jusif Nurkic was out with injury. Whiteside has been impressive on the stat sheet, with impressive scoring and rebounding numbers. The Knicks might utilize his services to catapult his career so he can help the team defensively.
Whiteside has come under criticism for his lack of effort throughout the past few seasons, but he seemed to write the wrongs this year. If the Blazers get bounced out of the playoffs, he might be looking for a revival in New York.
8. Tristan Thompson
12.0 PPG, 10.1 RPG, 2.1 APG, 51.2% FG
Tristan Thompson had a roller coaster over the past few years in terms of off-court issues, but he's still a very productive player. He is a beast on the boards and thrives his game on defense.
With Thibodeau and the New York Knicks, this type of player is very welcomed. Thompson's double-double ability will fit in Thibodeau's system since Thompson bases his whole career off of hustle.