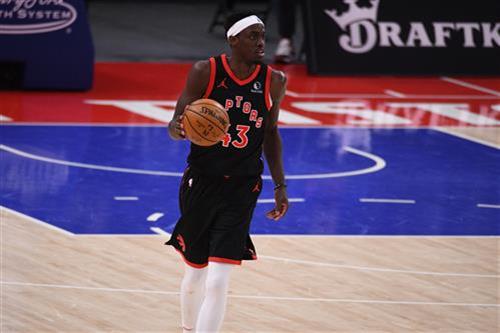 The Toronto Raptors and Pascal Siakam are in a bit of a weird situation right now.
Masai Ujiri and Bobby Webster has committed to fully rebuilding the Raptors after trading away Kyle Lowry to the Heat and drafting Scottie Barnes fourth overall in the 2021 draft. That first part is not surprising; many people foretold a Raptors rebuild after Kawhi Leonard dipped out of Toronto. However, the second part is what's confusing Raptors fans: why draft a prospect who plays the same position as your de facto franchise cornerstone?
Both Ujiri and Webster have all publicly come out to say that Siakam will remain a Raptor for the foreseeable future. However, it's fair to wonder if the Raptors FO will keep their word. We've all seen them trade away beloved franchise star DeMar DeRozan as soon as a trade for Leonard was available.
Let's look at the two potential scenarios of Pascal Siakam's future, one where he stays, and one where he's traded somewhere else.
The Spice Stays North
Let's say that the Raptors do commit to a future with Siakam. The Raptors young core moving forward would consist of 2020 draftee Malachi Flynn, Precious Achiuwa (who was acquired in the Lowry Trade), OG Anunoby, Scottie Barnes, and Pascal Siakam.
That's an intriguing list of players, for sure. The last three names are the ones that are the notables of that potential core. Anunoby's offense has flown under the radar, but he has had noticeable improvements over the last two seasons. Of course, his defense has still remained excellent. Barnes enters the league as an all-around player, and he showed this during the summer league. He averaged 15.5 points, 6.8 rebounds, 3.3 assists, 1.8 blocks, and 1 steal per game.