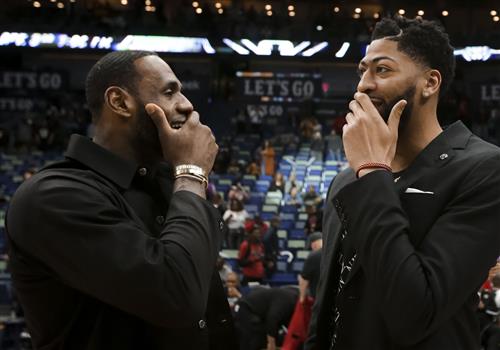 The Los Angeles Lakers are in everybody's mouth during these days, as the Californian organization is trying to bounce back the next season, even if that means making bold movements in the process. Ever since trade deadline the rumors of Pelicans' Anthony Davis going to Los Angeles have been a daily topic of discussion and that doesn't seem to be changing in the near future.
Right now there are plenty of options and variables surrounding the Lakers' future that might be with or without Anthony Davis, and now, with or without their more recent acquisition, LeBron James. At this point, taking LBJ to one of their biggest rivals in history sounds like a very good option for the Purple and Gold, something that might not be good in the eyes of many.
This comes after the Lakers failed season, the departure of Magic Johnson as the president of the franchise and the firing of Luke Walton as head coach; it looks like another rebuilding is on the works for the Lakers and they could get pretty good assets if they pull off a very daring trade with the Boston Celtics and the New Orleans Pelicans.
According to Preston Ellis of the Bleacher Report, one trade can finally pair LeBron James and Anthony Davis.
The trade in question consists of:
New Orleans Pelicans Receive: Marcus Smart, Jayson Tatum, Robert Williams III, Sacramento Kings' 2019 first-round pick (from Boston), Los Angeles Clippers' 2019 first-round pick (from Boston), Boston Celtics' 2022 first-round pick
Boston Celtics Receive: Anthony Davis, LeBron James
Los Angeles Lakers Receive: Jaylen Brown, Al Horford, Memphis Grizzlies' 2019 first-round pick (from Boston, top-six protected), Boston Celtics' 2019 first-round pick
With these moves, the Pelicans would have a young core of players who have succeeded in Boston and have playoff experience; moreover, Smart and Tatum are very good defending the perimeter and alongside Jrue Holliday, New Orleans would obtain a very dynamic defensive backcourt. Plus, the assets they would get with the 2019 first picks they'd be getting, the Pelicans would boost their ranks for next season and the ones to come.