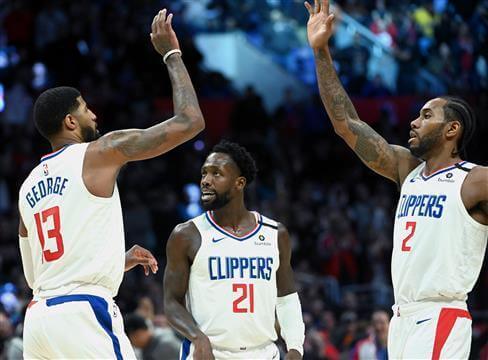 Blockbuster Trade Idea: The Clippers Can Land Elite Defender And Create The Big Three With Kawhi And Paul George
The Clippers are probably the favorites for the NBA title this year and have the most depth and talent in comparison to the other top contenders in the league. Finals MVP Kawhi Leonard is having another terrific season, averaging 26.9 PPG on 46.9% shooting, and he has an exceptional number two options in Paul George who is averaging 21.0 PPG who is still getting himself into shape following injury.
But the Clippers still have to worry about the likes of the Lakers and Bucks, who have their own MVP talent and enough shooters and defenders to compete tightly with the Clippers. If the Clippers want to distinguish themselves from the pack, they might have to make some moves. Specifically, they might want to target some exceptional defensive players with a proven track record.
By offering a very attractive trade package in Patrick Beverley, reigning 6th man of the year Lou Williams, Ivica Zubac, Landry Shamet and Montrezl Harrell (sign and trade); the Clippers could get themselves a very good player to increase their title odds.
Here are the best defensive players the Clippers can target.
Chris Paul
The reunion of Chris Paul with the Clippers could be a very exciting one. Paul is arguably the greatest player in their franchise history, making them relevant and forming "Lob City" for a franchise that has been dormant for as long as anyone can remember.
But Paul is still an All-Star player, and one of the best defensive leaders in the league. Chris Paul, Kawhi Leonard, and Paul George would give the Clippers three All-NBA talents on the defensive end. Chris Paul definitely deserves an NBA Finals appearance, and his best chance might be with teaming up with the Clippers.
Chris Paul, even as he ages, is still a dominant defensive player who is both vocal and experienced. His ability to influence the game, with his active hands in the passing Lanes and on-ball defense would give the Clippers three amazing perimeter defenders to compete with the Bucks and Lakers.