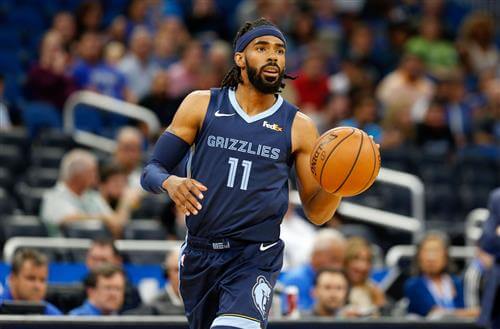 The NBA season is underway. Teams are fighting for initial positioning, stars are asserting themselves as celestial presences and youngsters are trying to carve out larger roles in their rotations. The entertainment level is off the charts.
We still want more.
These five trades would do the trick. Each of them moves a notable player to a new home and drastically alters the direction of at least one franchise. All-Stars are shifting squads, novel cores are being crafted and dysfunction is blotted out via player movement.
Though the goals are different in each case, one common truth exists: The NBA as a whole would be better off with the narratives put in place by this handful of swaps.
Phoenix Suns Get Their Point Guard
Phoenix Suns Get: Semi Ojeleye, Terry Rozier
Boston Celtics Get: Troy Daniels, Elie Okobo, 2019 first-round pick (unprotected)
Perhaps trading for Patrick Beverley would be the easier solution if the Los Angeles Clippers get off to a slow start. He'd cost less, and his combination of perimeter marksmanship and defensive dominance would play nicely alongside Devin Booker, Josh Jackson, Mikal Bridges, Deandre Ayton and the other Phoenix Suns youngsters.
But we're talking about blockbusters here, which means we need the Suns to go after one of the league's more promising point guards while he's buried behind Kyrie Irving on a ridiculously deep Boston Celtics roster.
To be clear, Phoenix has already attempted this pursuit. It didn't work under the supervision of former general manager Ryan McDonough or the new man in charge (James Jones), as reported by Arizona Sports 98.7 FM's John Gambadoro. But that shouldn't stop the desert-based squad from trying once again as the season progresses, increasing the team's need for a quality floor general and making the Celtics more willing to part with a second-stringer who isn't vital to their title pursuits.
If Brad Wanamaker impresses as a 29-year-old rookie while Marcus Smart continues to showcase some shooting improvements, Rozier could be that much more expendable—expendable enough that a package built around Troy Daniels, Elie Okobo and an unprotected first-round pick might get the job done.
The Celtics, also parting with Semi Ojeleye for salary-matching purposes, would keep building for the present and future in simultaneous fashion. Phoenix would gain access to a potential franchise 1-guard whose presence would help complete the rebuilt core.
Kevin Love to the Charlotte Hornets
Charlotte Hornets Get: Kevin Love
Cleveland Cavaliers Get: Bismack Biyombo, Jeremy Lamb, 2019 first-round pick (unprotected)
Credit for this trade idea, which can't happen until late January because of trading restrictions on extended players, goes to ESPN.com's Zach Lowe:
"The Cavs signed Love to that fat four-year, $120 million extension because he is a very good basketball player. They also did it to increase his trade value. If the Cavs are too far behind the No. 8 spot around the trade deadline, it would be natural to pivot into tank mode and investigate Love's market. ...
"They should not expect great return. Love just turned 30. That salary is huge, even if it drops by $2.5 million in 2022-23 (provided Earth has not melted by then). But there will always be some desperate team willing to give up an interesting rotation guy and middling first-round pick for an All-Star. How about Bismack Biyombo, Jeremy Lamb, and an unprotected Charlotte first-rounder? That doesn't sound great, but there won't be a Love motherlode."
Assuming the Cleveland Cavaliers are falling out of the Eastern Conference playoff race by the time calendars flip to 2019 (a fairly safe assumption after losing LeBron James and failing to bring in any significant talents other than rookie point guard Collin Sexton), why would either side turn down this proposition?
Cleveland isn't making any noise with a core built around George Hill, Love and a mediocre collection of veterans. Even if Sexton pans out immediately and becomes a Rookie of the Year contender, that's not nearly enough talent to keep pace with the Eastern front-runners. But getting salary off the books two years earlier (Bismack Biyombo is only under contract for two more seasons), gaining access to an intriguing swingman in Jeremy Lamb and adding a 2019 first-rounder to the empty coffers could go a long way in the rebuilding process.
Charlotte, of course, would get the present-day All-Star to pair with Kemba Walker and Nicolas Batum. The move would also help sell the franchise point guard on the organization's commitment to competitiveness, which could potentially make a monumental final impression before Walker hits the open market as an unrestricted free agent.
Jimmy Butler Joins the Philadelphia 76ers
Philadelphia 76ers Get: Jimmy Butler
Minnesota Timberwolves Get: Robert Covington, Markelle Fultz, 2019 first-round pick (lottery-protected)
Forget about the Miami Heat and their package for Jimmy Butler built around Josh Richardson. Write off the Houston Rockets, who can't realistically offer any up-and-coming stars and/or top-tier draft picks. The time has come for the Philadelphia 76ers to get involved.