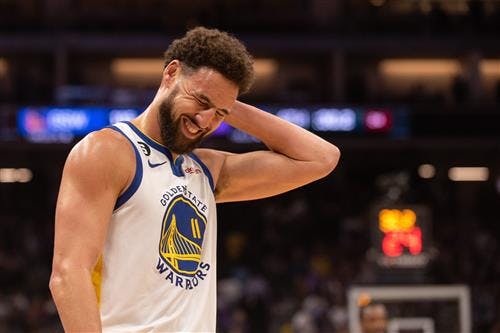 The Golden State Warriors were anticipated to enter the 2023 campaign having enjoyed a successful season that saw them win another NBA title. Although young players like Andrew Wiggins and Jordan Poole played crucial roles, the Warriors' nucleus of Stephen Curry, Klay Thompson, and Draymond Green were responsible for the team's success. The team's successful title defense last year was impressive because that meant the core helped win 4 NBA championships until today. No doubt, they are one of the greatest dynasties in NBA history.
But instead of challenging this season, the Warriors are not doing too well as they sit 11th in the Western Conference with a 9-10 record. The team has been poor on both ends of the floor, and the Draymond Green incident seems to have played a massive role in team chemistry. Stephen Curry is doing his thing by averaging 31.6 PPG but nobody else has contributed. Draymond Green is getting his share of the blame, but the man most in the spotlight is none other than Klay Thompson.
Thompson had a 41-point explosion against the lowly Houston Rockets on Monday, but that has been the only key highlight of the 5-time All-Star's season. This year, Thompson is posting 17.3 PPG, 3.3 RPG, and 2.3 APG while shooting 39.3% from the field, 37.9% from three, and 80.8% from the line. Anybody who has closely followed Klay's career knows that these are below-average numbers for a man who shoots close to 46% from the field and 42% from three. Klay has an excuse in that he suffered major injuries, and it does take time to get back. But at age 32, it might not come back very soon.
Instead of hoping Klay returns to All-Star form someday, the Warriors might be better off negotiating with the Chicago Bulls to bring on board a legitimate All-Star in his prime. The name that could join Stephen Curry in Golden State is Zach LaVine, a 27-year-old who already has 2 All-Star Teams on his resume. Here is why this deal works out for both teams.
Trade Package: Klay Thompson, Jonathan Kuminga, 2023 First-Round Pick for Zach LaVine