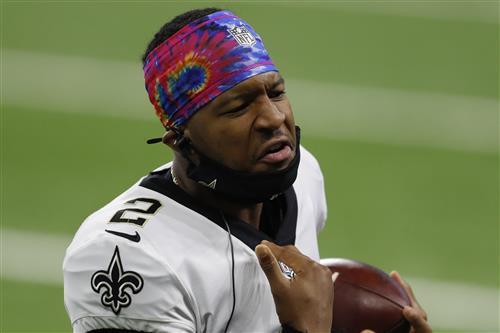 Even though Jameis Winston's 2021 playoff journey continues, multiple teams may have him on their free-agent radar.
He didn't see much action during the 2020 campaign, completing seven of his 11 pass attempts for 75 yards between Weeks 9 and 10. However, he's only one term removed from recording the Tampa Bay Buccaneers' single-season record in passing yards (5,109), along with 33 touchdowns passes for the No. 1-ranked aerial attack.
At 27 years old and with the draft pedigree of a 2015 No. 1 overall pick, Winston will probably attract multiple suitors on the open market if the New Orleans Saints allow him to walk in the offseason.
Although he has a history of throwing interceptions (88), he had Lasik eye surgery during the previous offseason, which may help his field vision as a pocket passer.
With a year behind a future Hall of Famer in Drew Brees and under an offensive mastermind such as head coach Sean Payton, Winston may have a better understanding of the quarterback position and the game as a whole.
Let's take a look at five clubs that should consider signing him this offseason.
Chicago Bears
The Chicago Bears went into the previous offseason with a quarterback competition between Mitchell Trubisky and Nick Foles. Neither cemented a long-term future with the franchise.
The Bears benched Trubisky in favor of Foles in Week 4. Through seven starts, the latter threw one or no touchdowns in five games and reverted to the backup role in Week 12 because of a hip injury.
Trusbisky went 3-3 as a starter in the final six weeks of the campaign, which helped Chicago clinch a playoff berth. However, he needed to pick up some wins in the postseason to secure a spot on the roster going forward, per NFL Network's Ian Rapoport.
The Bears offense fell flat in the wild-card round. Trubisky threw for 199 yards and a touchdown in the 21-9 loss to the New Orleans Saints.
According to ESPN's Jeremy Fowler, Matt Nagy seems "well-positioned" to return as the head coach. If so, he could be under a lot of pressure to push for another playoff appearance next season.
The Bears could sign Jameis Winston on a modest deal. He would compete with Foles or a rookie quarterback who needs a year to develop in a backup role.
If Winston beats Foles for the starting spot, the front office could possibly trade the Super Bowl-winning quarterback to another squad that wants a high-end backup.
Aside from a late stretch with Trubisky under center, the Bears offense looked stagnant through most of the 2020 campaign. Winston has thrown 88 interceptions in his career, but he also pushes the ball downfield, and Chicago needs a playmaker under center.
New England Patriots
The New England Patriots may start training camp with an open quarterback competition that involves a new face. ESPN's Mike Reiss estimated a 25 percent chance the team re-signs Cam Newton.
Newton's numbers look awful on paper. He threw for just 2,657 yards, eight touchdowns and 10 interceptions in 15 starts. The 6'5", 245-pound signal-caller made most of his impact on the ground, rushing for 592 yards and a team-leading 12 scores.