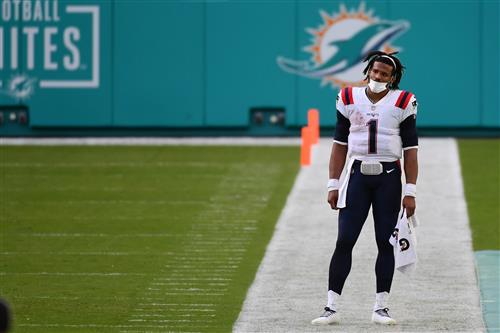 In 2020, Cam Newton started a new chapter of his career with the New England Patriots after the Carolina Panthers released him in March. Statistically, he had his worst season when playing a majority of the games, but there were some positives.
Newton didn't throw a touchdown in nine out of his 15 games and finished with eight passing scores and 10 interceptions. On the flip side, he played a big role in the club's fourth-ranked ground attack, rushing for 592 yards and 12 touchdowns.
Despite his rough stretches as a passer, Newton had a glass-half-full perspective when asked about a potential future in New England during the team's Week 17 postgame presser.
"I can't really speak on it right now, but just my whole time here in New England has been a blessing," Newton said. "I've learned so much about myself, about great teammates, unbelievable coaching. Yeah, so I just see how it goes, go from there."
According to ESPN's Adam Schefter (h/t WEEI's Ryan Hannable), the Patriots and Newton expect to go separate ways this offseason. ESPN's Mike Reiss gave the quarterback a 25 percent chance of a return.
Newton avoided a major injury through the 2020 term, and he's still a dynamic threat in spots. The 31-year-old should generate some interest on the open market while healthy.
If not the Patriots, which teams are the best fits for Newton? Where could he compete for a starting job? Let's take a look at four landing spots.
Chicago Bears
The Chicago Bears will retain general manager Ryan Pace and head coach Matt Nagy for at least another year, which doesn't bode well for Mitchell Trubisky, who threw for 2,055 yards, 16 touchdowns and eight interceptions in 10 games.
While announcing the return of Pace and Nagy, Bears chairman George McCaskey made it clear that he wants to see more out of the quarterback position.
"It's pretty clear we need better production from the quarterback position to be successful," McCaskey said, per NFL Network's Mike Garafolo.
According to NFL Network's Ian Rapoport, Trubisky likely needed some playoff success to remain with the team beyond this season. The Bears lost in the Wild Card Round to the New Orleans Saints.
Pace is going into the final year of his contract, while Nagy has two terms left on his deal. They are both on the hot seat with the pressure to find a solid starting quarterback and win right away.
Nick Foles remains on the roster, with a contract on the books through the 2022 campaign. In 2020, he struggled, throwing for 1,852 yards, 10 touchdowns and eight interceptions before a hip injury sidelined him for Week 12.
Although Foles logged two full practices in Week 13, Trubisky continued to start in his place for the remainder of the season.
If Chicago allows Trubisky to walk, Cam Newton could become a veteran option who leads the Bears back to the playoffs. At 31 years old, he's not a young franchise quarterback, but the 6'5", 245-pound signal-caller is still dynamic with the ability to threaten defenses with his arm and his legs.
Newton may see an improvement in his passing numbers with wide receiver Anthony Miller and two high-upside rookies in second-round tight end Cole Kmet and fifth-round wideout Darnell Mooney, who ranked second on the team in receptions (61) and yards (631) this season. The Bears can make an offer to re-sign impending free-agent wideout Allen Robinson II.
While Newton starts and helps the Bears win games, Nagy can groom a young quarterback from the draft to take over in the near future.
Denver Broncos
The Denver Broncos could move on from quarterback Drew Lock for three reasons.
First, Lock hasn't established himself as the future in Denver. Head coach Vic Fangio didn't speak of him as the unquestioned starter for the 2021 campaign. He said he "can be" in the mix but mentioned the quarterback's need for improvement, per Andrew Mason of DNVR.
Fangio's operative word, "can," allows the team some flexibility for its plan under center.
Secondly, Fangio will head into the 2021 term with something to prove as well. He's 12-20 as the Broncos' head coach. After two losing seasons, the 62-year-old needs a winning campaign.