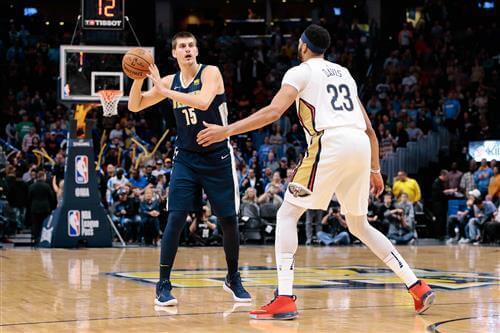 The Anthony Davis saga picked up steam Wednesday with reported interest from both the Boston Celtics and Los Angeles Lakers, according to ESPN's Adrian Wojnarowski. It was news that propelled the pair ahead of the New York Knicks, Los Angeles Clippers and Brooklyn Nets in the race to acquire the NBA's most immediately available top-five star.
These franchises are waging a quiet war in the race to acquire a superstar until they can officially begin talking with free agents like Kemba Walker, Kyrie Irving, Jimmy Butler and Tobias Harris at 6 p.m. on June 30. In addition to weighing the value of upending a roster for Davis, each suitor will face uncertainty if successful in landing the New Orleans Pelicans star.
If the Celtics send out Jayson Tatum, will Kyrie Irving follow Davis to Boston?
If the Nets alter their track, will they win one of Kyrie or Tobias Harris?
If the Clippers acquire Davis, can they convince Kawhi Leonard to abandon the NBA champs in Toronto?
Should the Lakers win the sweepstakes, there is no evidence to suggest they'll be able to add a third star or complement Davis and LeBron James with a bedrock of talent to carry them deep into the playoffs.
"This is an organization that is in a win-now mode with LeBron James," Adrian Wojnarowski said on ESPN (h/t Sporting News). "They've got to find, and very likely via trade, a co-star for LeBron James, because right now they are not a front-runner or even really a major consideration among any of the elite free agents."
Each of these moves also carries the potential for disaster should Davis walk next summer.
But there's a franchise that can offer New Orleans its desired talent while retaining a 24-year-old All-Star and 22-year-old rising one—a team with recent playoff success, a solid head coach and a well-respected front office.
The Denver Nuggets
Pelicans executive vice president of basketball operations David Griffin's selling point will begin and end with get-rich-now comparisons to Toronto's successful gamble on Leonard. The Denver Nuggets sit in a similar position to that of the 2017-18 Raptors.
The eventual Eastern Conference champion Cleveland Cavaliers swept Toronto in the second round after the Raptors won 59 games and secured the East's top seed last year.
The Nuggets fell to CJ McCollum (37 points) and the third-seeded Portland Trail Blazers by just four points in Game 7 after having won 54 contests en route to the Western Conference's No. 2 seed this season.
Unlike those Raptors, the Nuggets sit at the crest of their wave. The roster's core features young talent in Nikola Jokic, Jamal Murray, Gary Harris, Malik Beasley, Monte Morris, Trey Lyles and Michael Porter Jr., each of whom was born in 1994 or later and has four years of experience or less. Will Barton (28) and Paul Millsap (34) are the oldest contributors to one of the NBA's youngest, most successful teams.