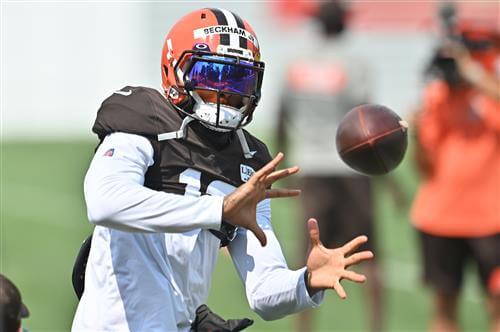 Dreadful. Pathetic. Whatever term we want to use for the Cleveland Browns' season-opening performance, they were just not on the same level as the Baltimore Ravens.
Cleveland dropped the opener by the score of 38-6. Baker Mayfield was a disaster under center. Star wide receiver Odell Beckham Jr. caught all of three passes for 22 yards, continuing the struggles we've seen from him since the former Pro Bowler joined the Browns last season.
We now have some more information on this. Apparently, the Browns are already looking to trade OBJ.
This belief was backed up by respected Browns insider Mary Kay Cabot of Cleveland.com in an in-depth piece on Tuesday.
If the Browns were to deal their most-talented offensive player, here's a look at the most-likely trade scenarios.
Odell Beckham Jr. traded to the New England Patriots
Leave it to Bill Belichick to pull off a trade of this ilk. We've seen it in the past with the likes of Randy Moss. The six-time Super Bowl champion head coach is not afraid to pull off that blockbuster.
New England is certainly in need of a No. 1 receiver for new starting quarterback Cam Newton. The team looks like a legit contender after Newton's performance in his debut with the team.
Second-year pass catcher N'Keal Harry has yet to live up to expectations. Julian Edelman is on his last legs. Imagine New England teaming Newton up with Beckham Jr. That would be so much fun.
Odell Beckham Jr. traded to the San Francisco 49ers
This is not a rumor that comes out of left field. San Francisco actually offered more than what the Browns paid to acquire OBJ from the New York Giants ahead of last season. New York simply did not want to trade him to an NFC rival.
The backdrop here is San Francisco's horrendous performance in a surprising Week 1 loss to the Arizona Cardinals. Without Deebo Samuel and Brandon Aiyuk in the mix, Jimmy Garoppolo completed 4-of-11 passes to his wide receivers in the loss. Ouch!