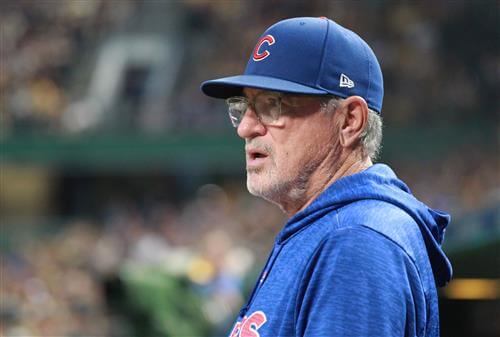 The line between "so crazy it just might work" and "that's just plain stupid" is thin and fraught with potential embarrassment. Let's walk it anyway, shall we?
I have an idea. It's speculation, to be clear. The only "inside" information in this equation is what happened inside a conversation I had with a lifelong friend (and amateur baseball chaos theorist). So take this for what it's worth. It's the start of the Hot Stove season, and it's fun to think about what crazy things might possibly happen in the offseason. This is a fun "what if?" and not much more.
I happen to think this one works. The Cubs should trade Joe Maddon to the Dodgers.
That's where it starts. That was the genesis. It's no secret that the shine is off Maddon in Chicago. That's a bit insane, of course, considering he was at the helm for the franchise's first World Series title in 108 years — just two seasons ago! The Cubs won 90 or more games only four times from 1970 through 2014, when Maddon was hired; they've won at least 92 games in each of his four seasons as skipper.
But Maddon helped redefine expectations on the North Side, and his Cubs have fallen far short of those new expectations the past two years. Painfully so, especially in 2018, when their late-season malaise ended in consecutive home losses at Wrigley Field to the Brewers and Rockies and the unwanted notoriety of being the first playoff team sent home in October.
Maddon's in the final year of his contract. The club doesn't appear to be in any hurry to lock him up for the long term. It was the topic of conversation — often — at the end-of-season news conference held by the Cubs' powers-that be.
"Joe's status remains unchanged," Cubs president Theo Epstein said, as reported in USA Today. "I'm very happy about that."
"Remains unchanged" isn't exactly a ringing endorsement, eh? Maybe it's just a negotiation ploy. Maybe an extension is almost done that hasn't been reported. Maybe.