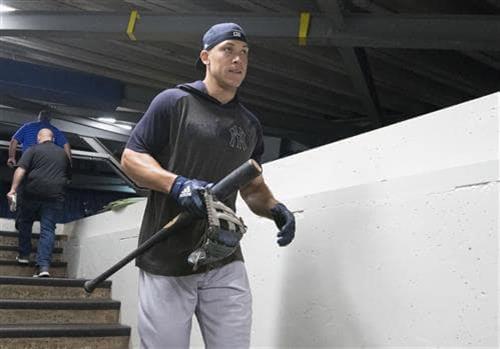 There is something strange going on with Aaron Judge this season.
It's not that he hasn't been productive. Despite a left oblique strain that kept him out of action for two months between late April and late June, and a slump that has struck over the past two weeks, the Yankees right fielder still owns a stellar .271/.398/.475 batting line in 61 games through Friday. His park-adjusted 130 wRC+ puts him far above the league average (100), and combined with his strong defense, he has been worth roughly 3 WAR in limited action.
This is more about how Judge has produced those numbers.
Consider his home run spray chart. Remember, Judge is not a left-handed batter.
That backward-looking image is a good representation of Judge's odd 2019. He's crushing the ball to the opposite field as effectively as anyone. On the other hand, he's not pulling the ball with authority.
The end result is a Judge that is still a force -- but not quite the dominant one who was the American League Rookie of the Year, and MVP runner-up, two years ago.