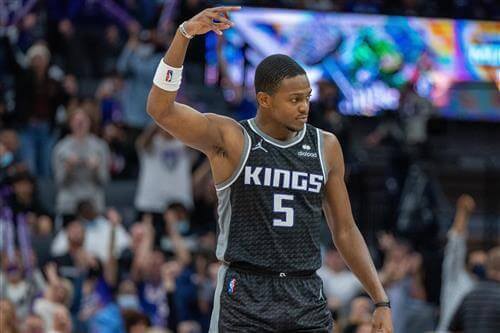 Sacramento Kings guard De'Aaron Fox's name is circulating throughout the league as a big-time player who can potentially be moved by the Feb. 10 NBA trade deadline.
The Philadelphia 76ers canvassed the prospect of a Fox-Ben Simmons trade package as recently as a few days ago, but dialogue remains exploratory due diligence, league sources told Yahoo Sports.
The Kings have received an abundance of interest in Fox and second-year guard Tyrese Haliburton, but the internal plan is to build around those two cornerstones in the backcourt rather than shipping them out, sources said.
However, no player on the Kings' roster is deemed untouchable. Sacramento is 17-27 and 11th in the Western Conference standings.
"You definitely think about potentially being traded because we are struggling," Fox told Yahoo Sports after leading the Kings with 29 points in a 125-116 victory over the Los Angeles Lakers on Wednesday night. "If you do have a change of scenery, it changes everything. I've been here for five years. I've built a life here, a family here. But once I'm on the court, all that is out the window. You're not thinking about anything else that can happen outside of your control.
"But I've been through some deadlines. I've seen people get traded at the last second. You try not to think about it, but you know it's a business and anything can happen. I'm not sure what's going to happen. Obviously, you see reports on Twitter. Am I worried about it? No. Can it happen? Yeah, it can definitely happen."