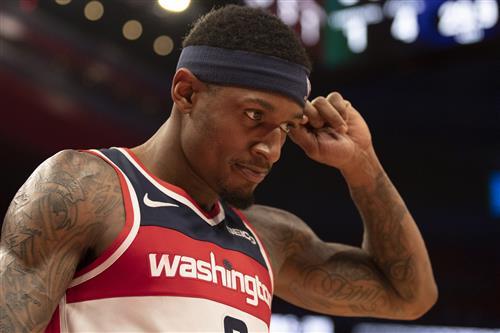 The Anthony Davis blockbuster trade this weekend got us thinking. With just a few days remaining until the NBA Draft, the expectation is that more trades will happen here soon.
Some of these moves won't go down until the draft kicks off in New York City on Thursday. From the Pelicans finding another All-Star to replace Davis to other teams using cap space for more draft assets, here's a look at six NBA trades we could see during the draft.
Wizards trade Bradley Beal to the Pelicans
Now that the Pelicans have picked up three additional first-round picks from the Lakers in the Anthony Davis trade, they have all the necessary assets to add someone of Beal's ilk. While Washington might be pushing back against the idea of moving the All-Star, it could be in the team's best interest. Start anew in 2019-20 while waiting for John Wall to return.
Under this scenario, Washington would add the fourth overall pick (from Los Angeles) as well as a future first-round selection. It would have to take on E'Twaun Moore and Solomon Hill's contracts to make a deal work. Maybe Lonzo Ball is thrown in. The Wizards could either ride him next season with Wall sidelined or trade him for other assets.
Heat trade Dion Waiters and first-round pick to the Hawks
Atlanta picked up a third first-round pick by taking on Allen Crabbe's contract from the Brooklyn Nets. Despite that move, general manager Travis Schlenk and Co. still have ample cap room to double down during Thursday's NBA Draft.
Waiters is owed nearly $25 million over the next two seasons. If Miami wants to be players in free agency, it will have to move this contract as well as one of Goran Dragic and Hassan Whiteside. Selling off the 13th pick and getting one of the Hawks early second-round selections would be worth it for Pat Riley and Co.
Hawks trade eighth and 10th picks to Wizard for fourth pick
Flush it's four first-round picks after the above-mentioned trade with the Heat, Atlanta can afford to move a couple picks in a trade-up scenario for a potential future star. This scenario also enables Washington to add a second top-10 pick in a separate deal after acquiring the No. 4 overall pick from New Orleans. More building blocks for the organization.