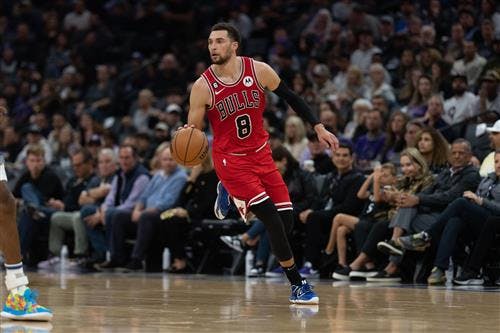 The 2023 NBA trade deadline is one week away, and so far we've only seen two trades during the regular season, one of which -- the Boston Celtics trading Noah Vonleh to the San Antonio Spurs -- was a pure salary dump for luxury tax purposes.
The tight standings in both the East and West could mean fewer teams will be looking to deal away players at the deadline, but it also could mean some teams will be bolder in making trades -- seeing an opportunity to make a big move up the standings before the playoffs begin in April.
Rather than wait to see what will happen -- or even if anything will happen -- we've asked our NBA experts to construct trades they want to see ahead of 3 p.m. ET on Feb. 9, some of which could shake up the league in major ways.
A Hollywood blockbuster
Los Angeles Lakers get: Zach LaVine, Lonzo Ball and Javonte Green
Chicago Bulls get: Russell Westbrook, Patrick Beverley, Max Christie, 2027 first (unprotected) and 2029 first (unprotected)
After the Rui Hachimura trade, Lakers GM Rob Pelinka told the media what it would take to move a future first-round pick.
"I think the calculus for the Lakers is to win a championship or not," Pelinka said. "There's no in-between or incremental growth."
LaVine would get the Lakers closer to that goal, but trading for him comes with tremendous long-term risk.
LaVine is in the prime of his career (will turn 28 in March). He's a two-time All-Star and an Olympic gold medalist, and he has averaged 20-plus points in each of the past four seasons. He is also guaranteed $178 million after this season and has endured surgery to his left knee twice in the past five years. He is, however, on pace to play 70-plus games this season for just the third time in his career.
Ball, meanwhile, has not played in an NBA game since January 2022 and is owed $42 million over the next two seasons. His inclusion in a deal like this would be a result of the Lakers' limited draft assets; in lieu of sending more picks to Chicago for LaVine, the Lakers would take on Ball's salary. One thing to keep in mind is that if Ball never plays an NBA game again, the Lakers would not be allowed to apply for cap relief and have his salary removed (the Bulls would be able to do so).
Both LaVine and Ball would be on the books for the Lakers in 2024-25 -- the year that LeBron James and Anthony Davis can decline their respective player options and become free agents.
Trading LaVine and Ball would wipe away more than $220 million in future salary for a Bulls team that is currently on the outside of the East play-in looking in. Entering the 2023 offseason, the Bulls would have $59 million in guaranteed salary, enough for two max slots if they do not re-sign Nikola Vucevic.
The crown jewel, however, is not the financial savings or a young player such as Max Christie but the two unprotected first-round picks from the Lakers in 2027 and 2029. After trading away three first-round picks in deals to acquire Vucevic and DeMar DeRozan, the Bulls would land two draft assets to either keep or move in a future trade.