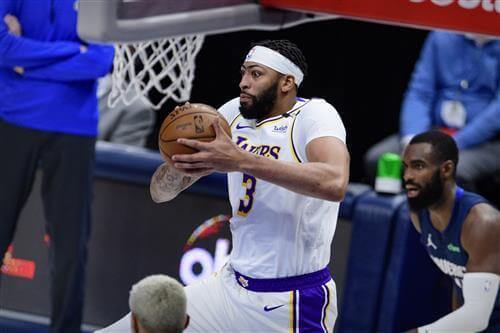 If you thought a three-team trade to secure Bol Bol was Brad Stevens being aggressive, you may want to strap in for this one.
When Stevens traded in his clipboard for a head seat in the front office this offseason, both he and Celtics owner Wyc Grousbeck vowed the No. 1 goal in Beantown was to "win Banner 18, or die trying." Welp, fast forward a few months and those title aspirations appear to be on life support. The Cs currently sit in ninth place in the Eastern Conference, have floated around a .500 record all season long, and boast a 59-59 record dating back to the start of 2020.
There's really no surprise that Boston is believed to be open for business at this year's trade deadline. The roster could certainly benefit from a shakeup, but a complete overhaul? Well, that's up for debate. However, with the team stuck in neutral, Bleacher Report's Zach Buckley proposes the Celtics could swing for the fences — that is, with a little help from a vaunted rival.
Anthony Davis to the Celtics?
With the Lakers in the midst of their own underwhelming campaign and their "Big 3" showing similar chemistry flaws to that of the two Jays in Boston, Buckley believes it's "feasible" to think that an Anthony Davis, Jaylen Brown swap could potentially spearhead a blockbuster between the two storied franchises.
"Is this likely? Not at all. But if each franchise feels it is stuck, it's at least feasible to think they'd see this swap as a way to unstick themselves," the B/R columnist wrote. "The Celtics were linked to Davis back when he wanted out of the Big Easy, and substantial interest could remain.