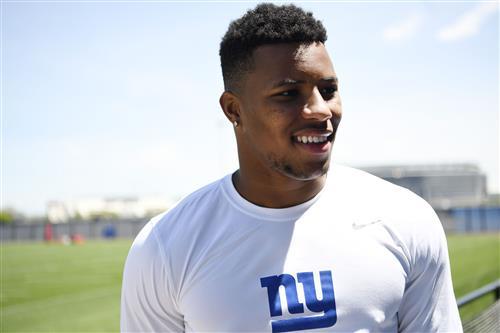 The unfortunate news that New York Giants running back Saquon Barkley suffered a torn ACL during the team's Week 2 loss to the Chicago Bears headlines some bad injuries around the entire NFL.
For the Giants, this is most unfortunate in that new head coach Joe Judge and offensive coordinator Jason Garrett wanted to see how a Barkley and Daniel Jones backfield would look for an entire season.
Entering his third season in the NFL, Barkley has shown flashes of being an all-time great running back. Selected No. 2 overall back in 2018, the Penn State product recorded 2,028 total yards and 15 touchdowns at a clip of 5.8 yards per touch en route to earning NFL Offensive Rookie of the Year honors.
With that said, New York received justifiable push back for selecting a running back with the second overall pick when quarterbacks such as Sam Darnold, Josh Allen and reigning NFL MVP Lamar Jackson were all available.
We exist in a pass-first era of NFL football. It's all about the quarterback position. No matter the impact Barkley has had for the Giants, it's nowhere near the level of a potential franchise quarterback.
That brings me to the overriding point of this article. Is it possible that the Giants simply decide to take the loss and trade Barkley once the 2020 season comes to a conclusion? It seems more than reasonable.
Trading Saquon Barkley would save the Giants a ton of cash
In an NFL that is on edge due to the revenue downfall created by the COVID-19 pandemic, the idea of paying a running back top-shelf money can't be seen as too appealing.
Barkley is set to count north of $10 million against the cap in 2021. In terms of per annual average, this would rank ninth among running backs in the NFL. Not bad given Barkley's production.